Hello All,
Here's today's update. Not a very nice day at the range. Temperature was 30 degrees - Wind was in my face at 20mph - and it was snowing an inch per hour.
I had to cover the chronograph between strings to keep the light screens clear.
So .... I stayed with AA5744 powder to keep the powder weight down. (powder weight is a factor in gun recoil) Estimated data was obtained from AA last year and I also used some of my earlier measured velocities as a guide to "increasing the load" for the following.
I fired 4 shots with each load and recorded average velocity and group size. All were shot at 50 yards.
110g = 1680 ave vel - 2-1/4"
115g = 1780 ave vel - 2-3/8"
120g = 1840 ave vel - 1-1/4"
125g = 1940 ave vel - 1-5/8"
I used the 100yd folding leaf rear sight because yesterday the standing leaf printed low near the bottom edge of the target and I wanted to get the groups up higher for measuring. I'll dial-in the sights as needed once I settle on a load.
Let me start by saying this;
I'm the first to admit that I'm not man enough to shoot a lot of these high velocity loads.
I'll be saving them for when I'm in imminent danger of being eaten or stomped to death. They really kick the crap out of you.
As I recorded the data for each string, I made note of the increasing recoil level. However, after firing the first 2 brutal shots of the 125g load, the next 2 shots were drastically lower in recoil. I was a bit confued as to why that would be until I noted the low chronograph readings for those last 2 shots. They were in the 1500fps range. I had accidentally grabbed two of my regulating cartridges from yesterday that were loaded with only 95.5g of powder.
I then fired the last 2 of the 125g load into the same target so it had a 6 shot group instead of only 4. The first 3 targets were great, but the last target really tells it all. I think you'll have to agree.
I'm not sure if any time too soon I'm going to push that last load up by 3 grains just to squeeze out 2000fps. I think 1940fps with 8,360 ft/lbs of energy should do just fine for any dinosaur that might be encountered here in Wisconsin. If I do shoot a 2000fps load, (8,880 ft/lbs) I'll post the data here.
All things considered, I'm so very pleased with how this rifle build turned out. I don't think I could have expected more.
A big "Thank You" to Aaron Little. Aaron told me that this was his first 700NE - I'm sure he'll be building more.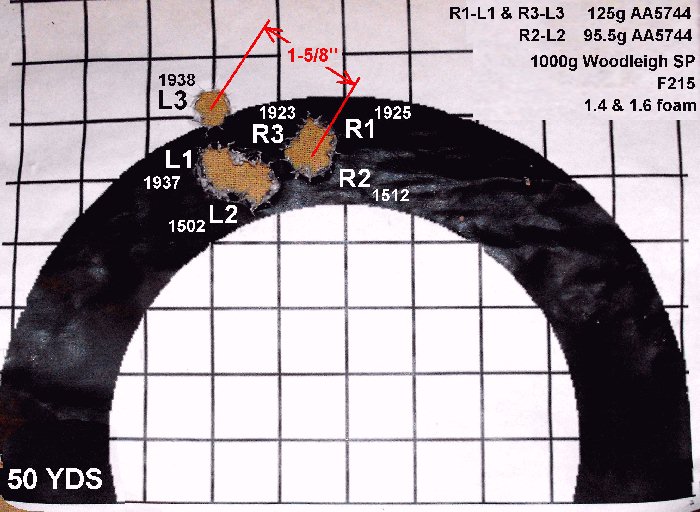 [/QUOTE]