---
When you're choosing a hunting load, you have two major concerns to address. First, you must strike the bird with enough pellets to ensure a vital area (head, neck, spine, heart, flight bone, etc...) is disrupted. This usually means 4+ hits. Second, any pellets that hit the bird must have sufficient penetration to ensure the vital organs can be reached, otherwise all you end up doing is crippling the bird. With these two items in mind, let's compare 3" to 3.5" shells.

The same size pellet launched at the same velocity will have the same ballistics, no matter what length of shell it is fired from. Therefore, if you compare 3" to 3.5" loads of equal velocity, you can get a very good idea of the potential advantage of a 3.5" shell.

Here's a good example. For long-range duck hunting, a load of steel #1's @ 1550fps is an excellent choice. It will hold enough velocity to achieve lethal penetration on mallards out to about 50 yards. In a 3" shell you get 1-1/8oz of shot at that velocity, while a 3-1/2" shell can deliver 1-3/8oz at that same velocity. That equates to 115 pellets vrs 140. Those extra 25 pellets give you a little extra margin of error in filling out the pattern. That's the only advantage of a 3.5" shell.

I like to see 100+ well distributed hits in a 30" circle in order to ensure that I can put the required 4+ hits on a mallard-sized target. The longer shell generally makes it easier to keep enough shot in the pattern, but that is not always the case. Some guns will pattern better with the shorter shell, so the only way to really tell if you are getting a benefit from the longer shell is to shoot some pattern tests. A shell that is performing well at the maximum range you intend to shoot at will throw a pattern that looks something like this: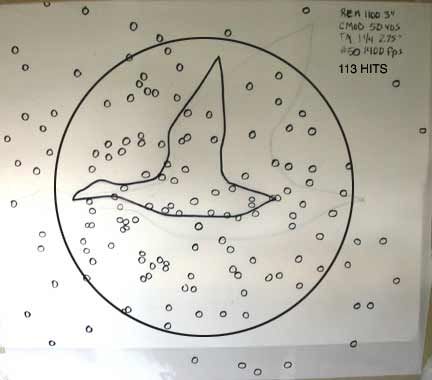 Note that there are over 100 hits in this 30 inch circle, and that they are fairly well distributed. Any bird falling within this circle will almost certainly take 4+ hits. Now, here's an unacceptable pattern: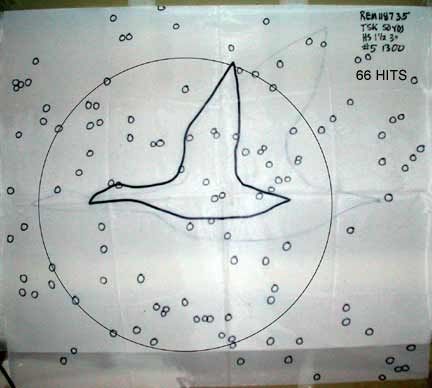 There are too many holes in this pattern. Although many birds would be killed with this one, too many would be crippled.

The important part to remember is you must pattern your gun with your load and choke in order to know what it will do. Every gun is different. Test at the maximum range you generally shoot birds at. If you're unsure about the potential range limits of various steel loads, take a few minutes and read this article:

http://www.deltawaterfowl.org/magazine/ ... ooting.php

It includes a table that lists the max range on mallard-sized targets for most commercial non-toxic loads. Hope you enjoy it.