Hi Gunner312,
What you have is nothing else but the best shotgun Sauer ever made.
For others: here's the links to one of Gunner312's photos:
cpg1410/displayimage.php?album=search&cat=0&pos=3
It's the best, because the sidelocks are superb and are much better than for example Holland & Holland style sidelocks. See the interior of these fine Sauer sidelocks: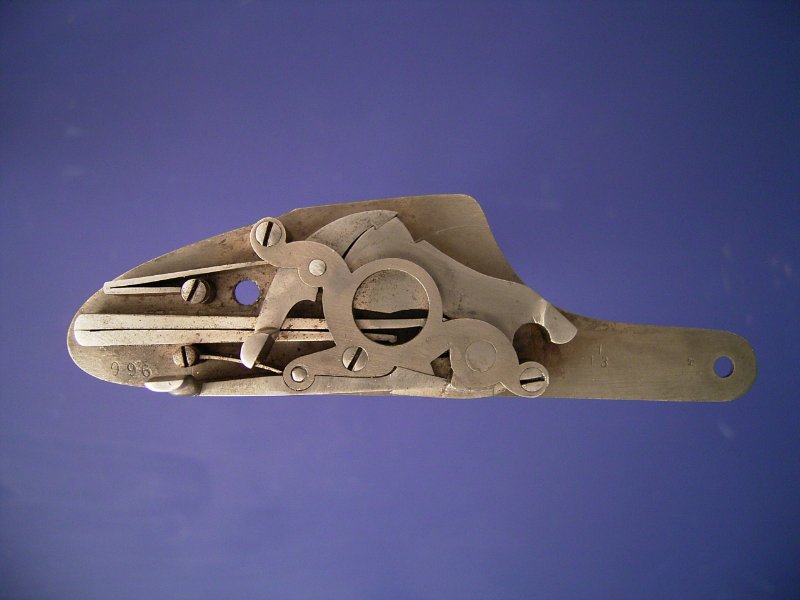 This type of shotgun was made from approximately 1890 to…. Well, at least, 1910 or so. Based on the SN I'd estimate a production date of approximately 1900 to 1903 . It isn't possible to give an exact date, as there are no records in the Suhl archive regarding Sauers with a SN below 200,000. But I have an original Sauer invoice of 1905 with which a gun SN 118xxx was delivered.
Unfortunately, this model isn't shown in Sauer's 1903 and 1906 catalog, so I can't tell you what model name it had. In period publications it was just called the "Sauer hammerless shotgun".
The original finish of yours (receiver and locks) was case hardened, not blued.
A question: really extractors or ejectors? This model was also made with true ejectors (what's a damn rare feature on these).
Regards
Martin