This shotgun was purely built for home defense. This one is a little different mechanically than the regular express or express tactical. I looked everywhere for information on it and haven't really found much so I figured I would post my results here.
To start off this Remington 870 Express Tactical 12ga with an 18.5" barrel came from Wal-Mart. For $347.00 I couldn't help myself, I've been wanting a shotgun for a while now. I was pretty green when it came to shotguns at my time of purchase, all I knew was that I wanted an 870 with a shorter barrel.
The model number is 25077 from Remington. When searched on their website however, the firearm I purchased is not the one shown. The shotgun I purchased has a factory installed 2 round extension which brings the capacity to 6+1. The extension is integral and continuous (it cant be removed and is one solid piece) so you can't even tell its an extension to begin with. It just looks like they increased the length of the magazine tube at the factory to increase the capacity.
I could easily fit 6 rounds (2 3/4 slug) in the tube at first, almost 7. I then did some research and saw the flaws with the Express models and even the 870 in general. MIM extractors, plastic followers, weak magazine springs among them. You could really notice the weak magazine spring, when removing the last round from the magazine it came out at an alarmingly slow rate with alarmingly weak force. I do not want failures with this firearm.
I did my research, trying to find out what is best. Per Remington and their armorers, they recommend aluminum followers over stainless steel because the stainless steel ones can cause damage. Noted. I also did not want to lose a round in the magazine so I did not want a follower with a tail. I settled on the Brownells aluminum follower. I chose red, although they have them in green, black and orange as well. Product number 080-000-227WB for those interested. I got this product first and the fit was great, didn't snag on anything.

(This is the stock picture from Brownells. Must be a pretty used one because the one I received had no scratches or anything)
I knew I needed a stronger magazine spring, and I settled on the Wolff extra power 6&7 shot magazine spring. SKU was 32712 for those interested. I didn't know if this would make me lose a round or not because of its extra length. There was no information on modifying this firearm I could find. Once installed it could still fit 6 (2 3/4 slug) rounds in the magazine tube, but BARELY! The spring power is MUCH stronger and thus improved the loading of the weapon greatly.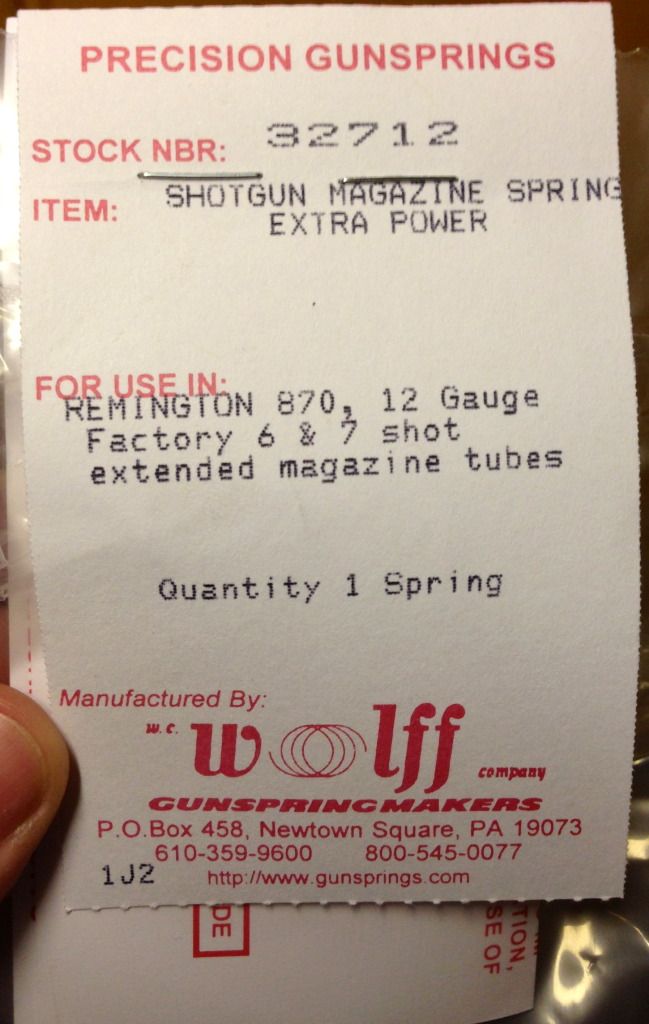 The extractor I wanted to use was the OEM stainless steel one used in the 870P. Manufacturer part number F16176 for those interested. I ordered it, and when it arrived I realized I hadn't even checked to see if my extractor was in fact MIM. Everything I had read about the Express series was that they all came with MIM extractors. Come to find out mine wasn't MIM, it didn't have the line from the mold. Anyways I just took the one off that came with my firearm and kept it for an extra. Took the stainless steel one I got from Brownells and polished it to a mirror finish. Installed it and its perfect.

Also placed an order for a new carrier dog spring. OEM part # F16966