Stevens Springfield manufactured the 311 models from 1931-1989, and Stevens produced the 311R with the 18.25" barrel for law enforcement from 1982-1989. I have read of the 311R in both 12 and 20 gauges, and both 18.25" and 20" barrels.
DOGMANN
, I could neither find a photograph among Google images of a Stevens 311R nor any other SxS in professional use by LE. I did not include police gun buybacks or confiscations nor film productions. I think that you have acquired a few of them over the past years, so how realistic do you find them for HD, compared to your Benelli M1, Ithaca Roadblocker 10 gauge, and other shotguns?
Perhaps there are no public photographs of the 311R in use by the NYPD because that could have compromised the identities of the undercover officers who used them in the Stakeout Squad, the Detective Bureau and the Street Narcotics Enforcement Unit.
However, I think that the "R" was an overstatement for a "riot" gun with a two shell capacity. The NYPD Central Robbery Division and the Emergency Service Unit would not use the 311R, preferring 13.5" Ithaca M37's, according to Pat Rogers, NYPD 1973-1993. CRD did investigations as well as stakeout, and had the choice of slug or buck. Mr. Rogers has stated, "I used both guns, but I strongly preferred the Ithaca. Having said that, the 311R was not something that I would be embarrassed to have at home."
DPris
stated elsewhere, "I remember thinking that the 311R would be quite handy on the job when they first came out, but my PD would not go for the idea." I do not suppose that many PD's accepted the notion of a two shell riot gun either. I am perplexed that the NYPD risked the lives of its officers with them, but Mr. Rogers did state that the 311R was hardly ever deployed and that they were being phased out before he retired in 1993.
GRIZ22
stated elsewhere, "I can remember seeing NYPD guys qualifying with the doubles in the 1990's. I was told by one of the NYPD instructors that they felt the doubles were safer and easier to use by guys who didn't normally handle a shotgun." Mr. Rogers has stated, "The twice barrel was issued because the FTS did not believe that the average Detective was smart enough to operate a slide action gun (source was Detective Frank Dimario, Firearms and Tactics Section). They also felt that two rounds should be all that was necessary (sigh...)."
adwjc
, a LEO of Upstate NY stated elsewhere, "The Jersey City, NJ PD had two 12 gauge 311R's bracket-mounted behind every precinct desk. Then there were the few dozen stored in the Gun Locker. The powers that be decided that the 'common folk' could handle these, while the Emergency Services Unit got the pumps and semi-autos (and a lot more)."
ColbyBruce
of Atlanta stated elsewhere, "I used to own a Stevens 311R, a factory double barrel riot gun, that a previous owner had nickel plated. I swapped it to a LEO for a Winchester 94 .32 Special. A few months later it saved his life during an undercover assignment. As shiny as the Stevens was, three men crossed a well-lit parking deck and came for him. He walked away from that fight, and his job." My Corollary: Real thugs are not nearly as intimidated by my shotgun as I think they are, and I need more than two shells in my gun. John Moses Browning knew that. General Pershing knew that in WWI. How in the world did the NYPD not know that for the last twenty years of the twentieth century?
Even with the extra production to fill the contracts with the NYPD and with other PD's and correctional facilities unduly influenced by the NYPD, Stevens could only stay in the obsolete SxS business eight years longer.
As
mike103
answered you elsewhere, 311R's were used for search warrants by the Narcotics Unit, but "in the Detective Bureau you needed a Lieutenant to deploy the gun so they were used very little. I do know of a stakeout at a housing project where it was deployed and two bad guys bit the dust. 1997 was the last year for the double barrels. I was a Captain in Narco and we did a take back of the Washington Heights area of Manhattan called the Northern Manhattan Initiative [started Sep 1996, later renamed the Citywide Narcotics Initiative]. They trained all 450 cops and detectives with the guns, then phased them out. The right hand never knew what the left was doing."
The article that you mentioned to him,
http://www.firearmstalk.com/The-Modern-Double-Barrel-Shotgun.html
, stated that the NYPD gave up its last Stevens 311R double-barrels in 2002. Many of the NYPD 311R's were sold but
mike103
replied to you that lots of them are still in cages at the NYPD Rodman's Neck Firing Range on City Island of Precinct 45 in the northeast Bronx.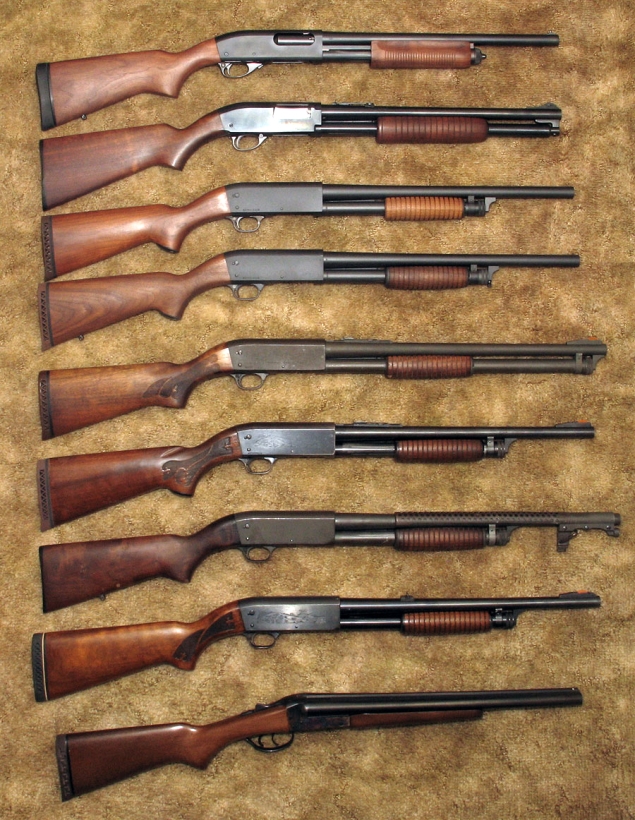 From the top: 1) 1975 Rem 870P. 2) 1970 High Standard 8113 from Allen County PD in Indiana. 3) Ithaca 37 "Homeland Security" from 2003. 4) Ithaca 37 "Homeland Security" from 2003. 5) 1980 Ithaca 37 "M&P" from Snohomish County SO. 6) 1973 Ithaca Deerslayer. 7) 1965 Ithaca 37 M&P 'trench" from Acadia Parish PD. 8.) 1967 Ithaca 37 DSPS LAPD. 9) 1983 Stevens 311R.