Apologies in advance for the quality of the photos. The wife is off at a wedding this weekend, and she took the camera. My cellphone will have to do for now.
Additional apologies for making this so long. I wanted to get as much of it posted at once as possible.
Before I get to explaining the project in detail, I have to explain what my project is, and more importantly
why
I chose this particular make and model as a project gun:
The Browning long-recoil action is pretty famous as the A5 "Humpback" model shotgun, also produced by Remington as the "Model 11" from 1905 until 1947.
[img]http://www.remington.com/images/library/history/models/m11[1].jpg[/img]
Remington Model 11. Photo courtesy of Remington Arms Company
The design has a reputation for being stone-cold reliable, fairly soft shooting from a perceived recoil stand point, and damn near unbreakable.
The basic setup is a barrel that recoils into the receiver upon firing, driving the bolt and empty hull to the rear. The barrel rides in front of a HUGE flatwound spring around the mag tube, with a large split ring that is compressed to provide friction to the assembly. Here's the whole setup: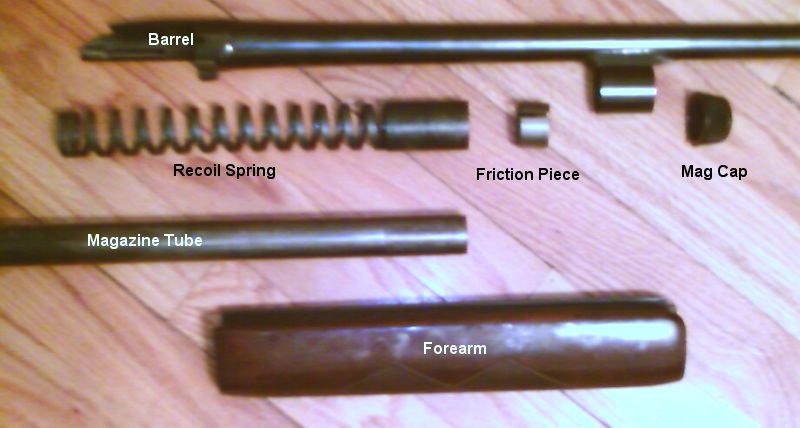 Makes an AK look complicated, don't it?
When the bolt travels far enough to the rear, it is captured, and spring tension on the barrel pulls it forward. The empty stays with the bolt, held to the breechface by the extractor. As the barrel rides forward, a small projection on the tail of the barrel kicks the empty out, while the new round fed from the mag trips the bolt release. The bolt has its own "action spring" housed in a tube behind the receiver, and this drives the bolt home (with a new round). If there is no round on the carrier (i.e. the mag is empty), the bolt stays locked to the rear.
The process is entirely mechanical. No gas is bled from the system, and
no lubrication is required for operation with standard ammunition
. Read that last part again.
After WW2, the geniuses at Remington decided to streamline and update the ergonomics and looks of their Model 11. What they came up with is what we, today, instantly recognize as "that Remington shotgun" shape, and it was introduced to the world as the Model 11, 1948. They rounded the rear of the simplified breechblock and the receiver, gave the totally redesigned FCG a classic curved housing, and totally changed the face of shotguns forever:
[img]http://www.remington.com/images/library/history/models/m1148[1].jpg[/img]
Remington Model 11-48. Photo courtesy of Remington Arms Company
The Model 11-'48 design actually pre-dates the 870 pump by a year. As a matter of fact, the 870 was a re-work of the 11-48 from the Browning long-recoil semi-auto action to a manually operated slide action. The 870 shares something like an 80% commonality in parts with the 11-48. This is an important consideration.
A decade after the introduction of the 11-48, the gun was redesigned for gas operation several times (unsuccessfully first with the Sportsman 58, the then 878) before the engineers got to the Model 1100 in 1963; a finicky but softer-shooting copy of the '48, with identical ergonomics. Five years later the 11-48 was dropped from the lineup. It would be 20 more years before Remington made an attempt to fix the 1100's issues (with the 11-87).
So here's what we've got with the Remington Model 11-48:
Pros:
Reliable
There is no gas system to foul, and it's actually intended to run DRY (NO lubrication except a bit on the frame rails and trigger group. Can you say "Glock"?)
Robust
Basically, this thing is a spring-driven 870, and I haven't broken one of those (yet). No "o-rings" to lose, or get cracked with age. It's rock solid.
Parts Availability
If it fits on, in, or around an 870, 1100, or 11-87, chances are I can make it work with a little tweaking. NOS small parts are also out there.
Ergonomics
I already have an 870, I want to run one type of shotgun – this lets me do it. Same trigger press, same safety location, same stock angle. I need to remember the bolt release is in a different position (can't miss it – but that's for later) and one gets a pump, while the other has a handle.
Recoil Mitigation
This is not a gas gun, so you
do
get the vast majority of the recoil impulse directed back at you. The primary difference is that the push is spread out over so many actions (barrel unlock, barrel recoil, extraction/ejection/barrel return, bolt return) and so much time that it is noticeably more pleasant to shoot than a pump. Instead of the single, sharp, "thwack" of a pump, the recoil impulse is "ka-thunk-chunk". It feels similar to shooting an AK, or more accurately an HK G3/91.
Price!
And now we get to the best part:
I was able to pick up a serviceable 11-48 for the grand sum of exactly $180.00 off of the Equipment Exchange at AR15.com:
http://ar15.com/forums/topic.html?b=7&f=131&t=507167
. These guns typically go in the $2-300 range, even at the local Gander or Cabela's. Less initial price means more money for the project.
Cons:
Age
Remington stopped making the 11-48 over forty years ago. Most of the 12, 16, and 20 Gauge guns have seen lots of hunting/field use and have been bouncing around in the back of pickups during that time. I inherited a 1952 11-48 in 16G that
looked
beautiful, in fact, it's what got me interested in the model. Unfortunately one trip duck hunting showed me that the beauty was only cosmetic. There are two aspects of the age I'd like to touch on:
1)
Even though this is in the "con" column, age can be a plus. The fact of the matter is that Remington (or American manufacturers in general) don't make things like they used to. When you consider that my project gun left the Remington factory before Ike started his second term, but is still functionally the same with little or no maintenance over half a century later, it should instill confidence in both the design and the execution.
2)
While New-Old-Stock parts exist (at 150% of what a comparable 1100 or 870 parts would go for) some things are VERY expensive on these guns. Barrels typically sell for
more
than complete guns. Stocks are outrageous. Forends are insane. It's a good thing that not many things break, and there are folks willing to part out entire weapons (driving the cost of NOS parts down).
HD/"Tactical" Parts Compatibility
Everything must be tweaked. If you aren't a handy person, don't try this one at home. I got a great education on the internals doing a full refinish on the aforementioned 16 Gauge '48. I'm now getting an education on what does and doesn't fit on a 12G. There are slight differences in parts, angles, and dimensions between guns, let alone models. If you don't own a bench grinder and dremel, and can't use JB weld and Epoxy, a similar project is probably outside your scope.
=====================================
So why did I just type all that? It's interesting history, and explains in a bit more depth why I'm working on a five decades old gun, rather than heading off and buying a 930 SPX like everyone else.
"But FMD, you said gear really doesn't matter!" Exactly. Unfortunately, my wife also trains with me. One is none, two is one.
A year or so ago the benefits of the shotgun were expounded upon to me by an instructor I greatly respect. Up until that point, I was a pist0l/rifle only guy. Despite that, I had an 870. My wife wouldn't touch it with a ten foot pole. While she isn't particularly recoil-sensitive, she doesn't enjoy shooting the shotty for long periods of time with high-volume round counts (tactical classes). I had decided to purchase another 870 in 20G for her use, but we bought a house instead. Plans for any new gun were put on hold.
Sometime over the summer, we inherited her dad's collection of "Fudd" guns: a Pre-64 Win 94, an ancient Remington Model 12 (.22 pump), etc. Among them was a 16G Remmy 11-48. "AHA!" says I, "NOW I will get her to shoot a shotgun!" I set about to learn all I could, which led me here, funny enough.
Now the reality is that 16G '48 barrels are more expensive than 12G guns ($250+), and suitable ammo for social purposes is scarce. This is where the thought to do an 11-48 as a HD shotty in 12G was born for me. I passed on several opportunities in the $250-$300 range, barely missed one at $225, and when I saw the ad linked above I had to jump on it.
Here's the text and photos from the ad (as eventually the link above will go into the Archive at Arfcom):
Quote:
I have a Remington 11-48 12ga semi-auto 26'' full choke. The stock has a little bit of character to it but the the rest of it is really good shape. $200 shipped or $180 FTF in WI Madison area.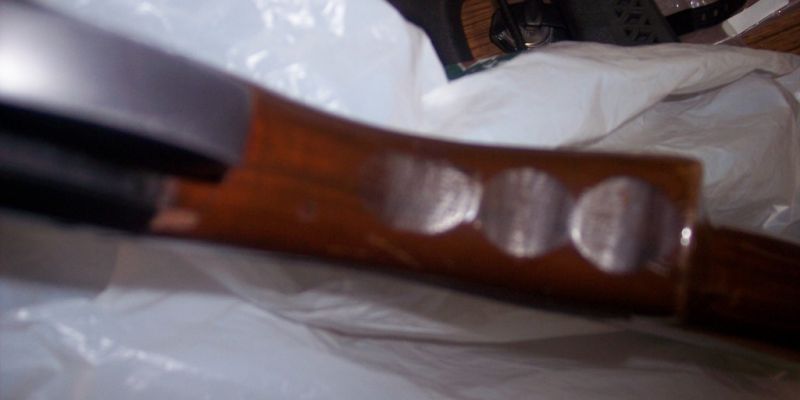 Budget
My goal is to have everything done on this project (with the exception of a light/mount) for
under $400
, which is roughly the cost of a new 20G 870 Youth from Gander (what we'd have bought if I didn't get on this 11-48 kick).
Current Progress: Mods
What you've all been waiting for, right? Here goes:
Barrel cut to 18.5"
Cost: $0.00
I marked and cut the original barrel down to 18 & 9/16" with a pipe cutter. Why the odd number? I wanted at least a 16th of an inch clearance so that I could grind down and clean up any flash left over from the cut and still end up at 18.5".

Original 28" barrel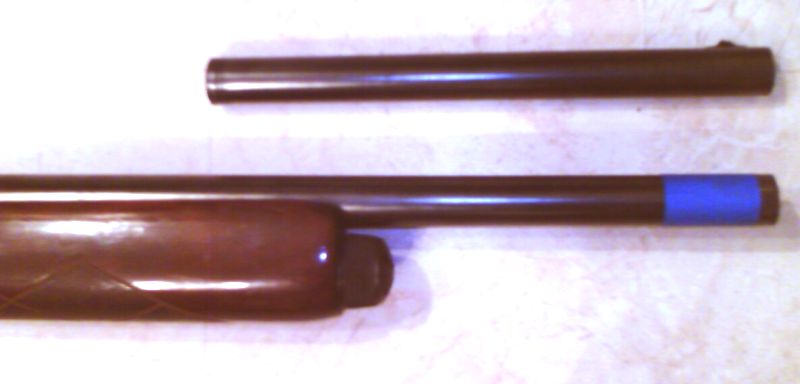 Cut barrel @ 18.5" with the leftover. Blue tape is the "under no freaking circumstances go beyond this line" mark at 18.125"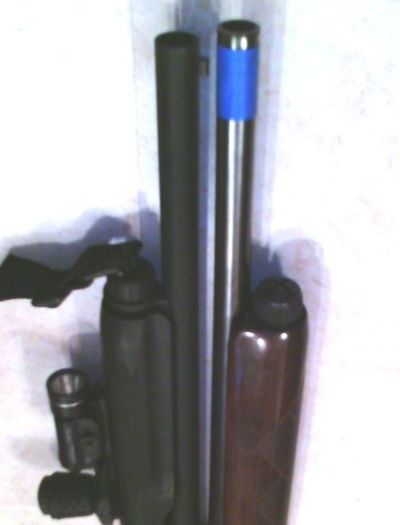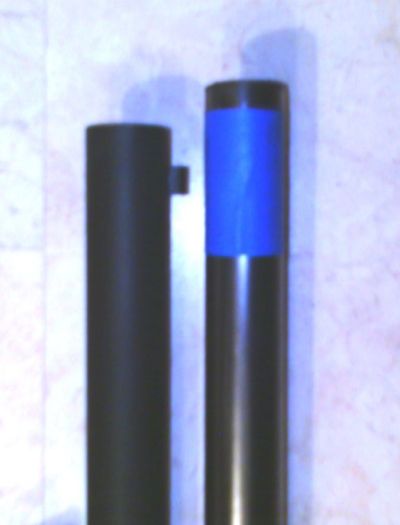 11-48 barrel next to my 18" 870P barrel for comparison. As you can see, the blue tape is just beyond 18" (870P is exactly 18"). The new cut itself is well beyond that.
Stock work
Current cost: $0.00
Projected cost: $13.66-$46.03
The original stock has a bit more than "character" as described in the ad. In short, I don't think I'll ever be able to use it. 1) It fits weird on the gun, leaving a gap near the receiver. I have discovered that this is a gun problem, not a stock problem, but: 2) The damn thing is like six feet long (actually, closer to 16" LOP with a pad), and 3) The "character" part is the home-made finger grooves in the pist0l grip area. Unfortunately, I need
more
material there, not less if I run a short stock; so cutting down the original would be problematic.
First, I modified my 870's Hogue "ShortShot" Youth stock (DIY instructions in a different thread) to play with:

Hogue stock testfit.
The gun felt insanely good like this. By that I mean; "Measure the barrel a few more times because something that swings so well and points like that has GOT to be illegal!" good.
In the end, I don't want to cannibalize parts from my "go to" 870, so I put on a spare 870 stock that I have. It is cut down to be the same LOP as the Hogue, only with a sling plate installed (which has since gone away). It also wears a Pachmayr Decelerator (poorly) ground down to a "skeet" profile.

FMDs Remington 11-48 project, Mk1, Mod0
The gun will NOT stay this way, however. With the stock as short as it is, my hand tends to ride backward and my fingers wrap around and hit my cheek. The Hogue stock fixes this by making the pist0l grip area more vertical, unfortunately this stock is a cut down, so the angle is unacceptable to me.
Ultimately, I have two choices here: Buy another Hogue ShortShot ($45.47) and spacer ($0.56), or figure out a way to add wood to the grip area of a cut-down conventional stock, and then add a Pachmayr F-325 XS Youth Pad ($13.66).
Carrier Release Button
Current cost: $1.24
Unlike the 1100 & 11-87 (thank God), the 11-48 has a bolt/carrier release button on the side of the receiver like all the rest of the "normal" Semi-auto shotguns, including the 9x Mossys, M-series Benellis, Berettas, Brownings, and FNs. Sadly, 50 years of design improvements have left the latter with larger and easier to use buttons. By way of example: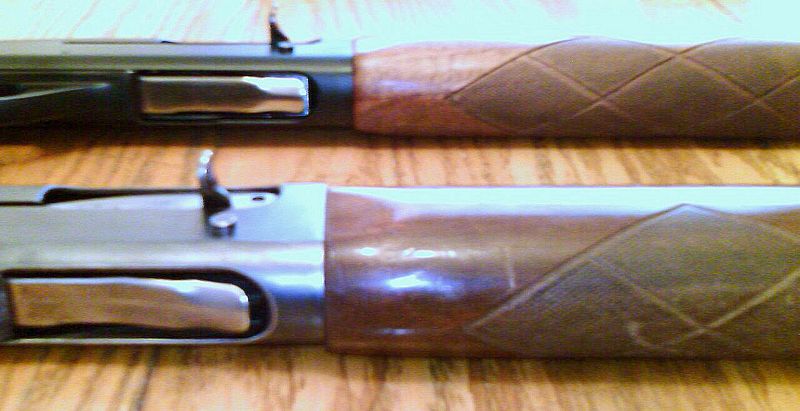 Carrier release buttons: Original 16G and 12G (16 in rear and is the darker of the two)
This is unacceptably small, at 9/32" diameter. I went to the hardware store today to see what I could come up with, and I purchased
1) 10/32 x 1" set screw/stud @ $0.31
2) 10/32 threaded & knurled thumbnut (brass) @ $0.93
I took the grindstone on the Dremel tool to the original button, and shaved it down to the wear mark, in essence making it exactly as tall as the receiver when depressed. Since it is hollow, and the correct size for the stud, I threaded it for 10/32. Next, I ground down the base of the thumbnut from
this profile
to something approaching flat. I left enough of the taper so that when placed atop the button, the two match up. A couple of test fits, grinding to remove excess stud at the
back
of the button (to make the stud even with the top of the nut) and here's what we're left with: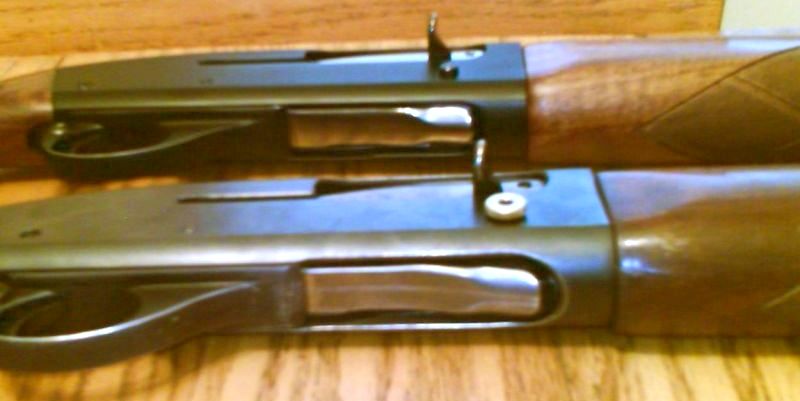 Button lying flat (bolt/breechblock closed)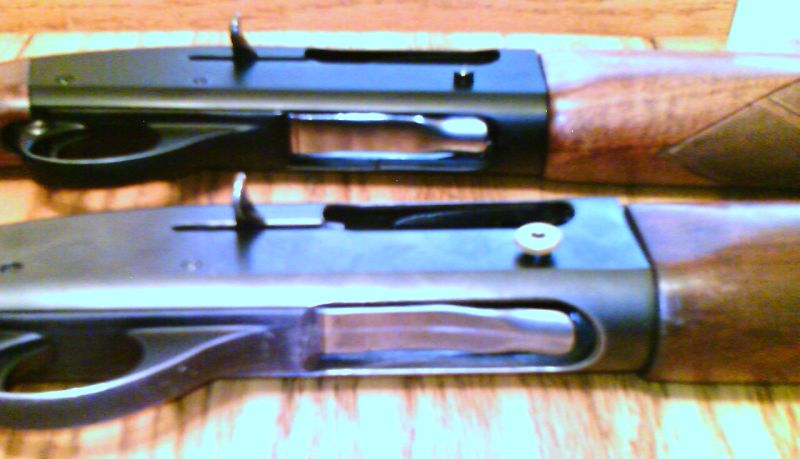 Button standing "proud" (bolt/breechblock open, spring pressure pressing up on the button).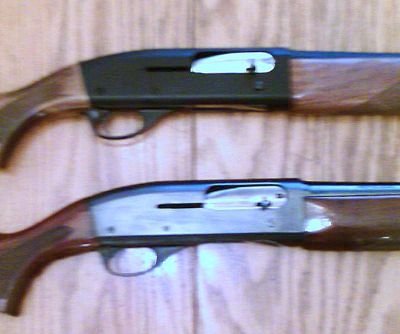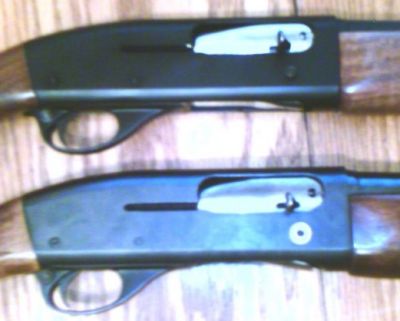 Before/After comparison shot: Button surface area is increased by >200%
One can now find the carrier release button in the dark, and depress it even with gloved fingers. The stud will eventually be silver-soldered to the button base, and the thumbnut installed with blue locktite (so that it stays put, but can still be removed during a detail strip).
So where does that leave me?

Old School & New School
Right now the project stands functional, shown above next to my 870. There's a
long
way to go, as I haven't even cleaned the damn thing yet. [shock]
Future Mods:
Sights
Projected cost: $25.46
I am not a fan of Ghost Rings. Beads are faster up close, and can be just as accurate out to 100 Yards. I like XS BigDots, but can't justify the cost. What I will probably do is install the following:
Colonial Arms Bead Sight Base + Marbles/Trijicon Bead Sight
This is not set in stone, as the possibility exists that I'll be getting a different (and
much
cooler) FSB. I don't want to let the cat out of the bag, so we'll leave it as above.
Saftey
Projected cost: $8.40
I currently use a Scattergun Technologies "Tactical Response" safety on my 870. While it is better than the stock unit, I'm thinking I'm going to replace it with the VCS big button:
Vang-Comp Safety
Stock Bearing Plate
Projected cost: $3.68
This small part will go a long way to help with making the stock more secure, no matter which way I decide to go. If anyone happens to have one floating around in their parts box they'd like to donate, I'd be more than happy to pay for shipping.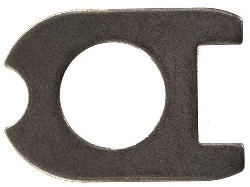 Remington Stock Bearing Plate
Speedfeed Synthetic/Repair Refinish Forend
Projected cost: $17.07
This one is truly optional. Since no one makes a synthetic forend for an 11-48, my thought is to modify an 1100 forend to fit. Speedfeed just happens to be the cheapest out there. I have no clue what will be involved if I do this, but the experiment will most likely be worth the pricetag. This is the only way to get a true match to the synthetic stock.
The current wood is slightly swelled and pulling away from the metal liner in places. My other option would be to epoxy and clamp everything back tight, and then refinish to match whatever stock I choose. I'm betting that after all that work + the refinish to the wood, the cost will come out almost even.

Speedfeed Forend
Extended Magazine
Projected cost: $42.00
Scattergun/Wilson "+1" extension, spring, and follower. I'm not sure if I'd use the follower, as the existing old style metal unit is in good shape and pretty much bombproof. The mag extension isn't necessarily for the extra capacity, rather it will serve as a forward mount for a sling, and allow for easier "slug select" operation without a bunch of added weight up front.
It also doesn't require a clamp, which is a huge consideration due to the reciprocating barrel on the 11-48.
Note that in order to get this to fit, I will have to shorten the mag tube by roughly ¼". It's easier to do than modifying the extension, and then allows for all sorts of 870-based options.

Scattergun Tech +1 Extension
Oversize Bolt Handle
Projected cost: $8.00
I live in Wisconsin. We wear gloves here. Choate 'cause I can't justify the cost of the DMW unit. I think Max100's SPX model would rock
if
he made one to fit an 1100/11-87. *cough*hint hint*cough*
Choate "Tactical" bolt handle
Refinish
Projected cost: $12.00-$20.00
I'm intrigued by Max100's exhaust manifold/BBQ paint method. Since I have access to a blasting cabinet and an oven (don't tell my wife), that looks like a potential option. I also have a friend who does Duracoat. I can probably get use of his paint booth at the cost of materials.
Projected Total Cost
On the high end, with the Hogue stock, Speedfeed forend, and Duracoat; it looks like $171.88 + $180.00 for the gun. Total would then be $351.88 + shipping on the parts*.
If I just work on the wood and go with the BBQ paint, it looks like $131.51 in parts + 180 for the gun. Total would then be $311.51 + shipping on the parts*.
At this point, I might even be able to sneak a sling and light mount into the mix and
still
come in under the $400 mark*. Not too shabby, for a dead-nuts reliable and almost maintenance-free alternative to a 930 Tactical, M2 Tactical, FN SLP, or 11-87 Police/1100 Tac2.
*
Brownell's "Gunsmith Discount" pricing on all of this, FWIW.
Questions, comments, and constructive criticism are welcome. Please feel free to post, as it will be a bit before I can acquire the parts and continue on with updates to the project.
Edits to fix stuff.
Latest update on page 4.