doppelflinten wrote:
Martin,

A most interesting analysis. Thank you for the education.
Hi Doppelflinten,
Thanks – but I have to correct some points. First of all, Jäger produced their guns in their own factory under the brand "Herold". Simson is only a part of the designation in "Simson-Jäger-Verschluss" (Simson Jäger lock) – for whatever reasons.
Next I found ads for the "Record" shotguns in two German catalogs. First, in a 1913/14 dated Akah catalog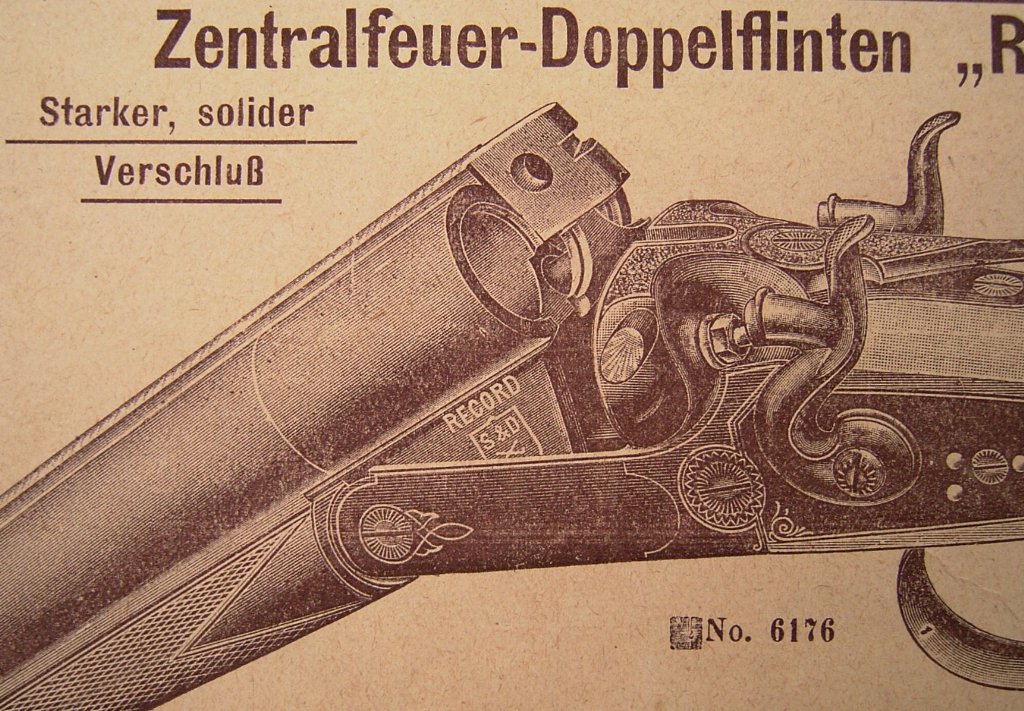 And second in a 1914/15 dated Geco (Genschow & Co) catalog.
In both catalogs the "Record" shotguns were offered without revealing the maker and in both catalogs the "Herold" shotguns by Jäger are also offered. Seems, there must have been an agreement between Jäger and the maker of the Record shotguns, because Jäger owned the relating patents.
Anyway, the "Record" shotguns shown in the catalogs were made by the company Scholberg & Delheid, owner of the trademark "Record" and owner of the trademark "S & D". I don't have access to vintage Belgian trademarks, but at least I found S&D's German trademark registered in 1907: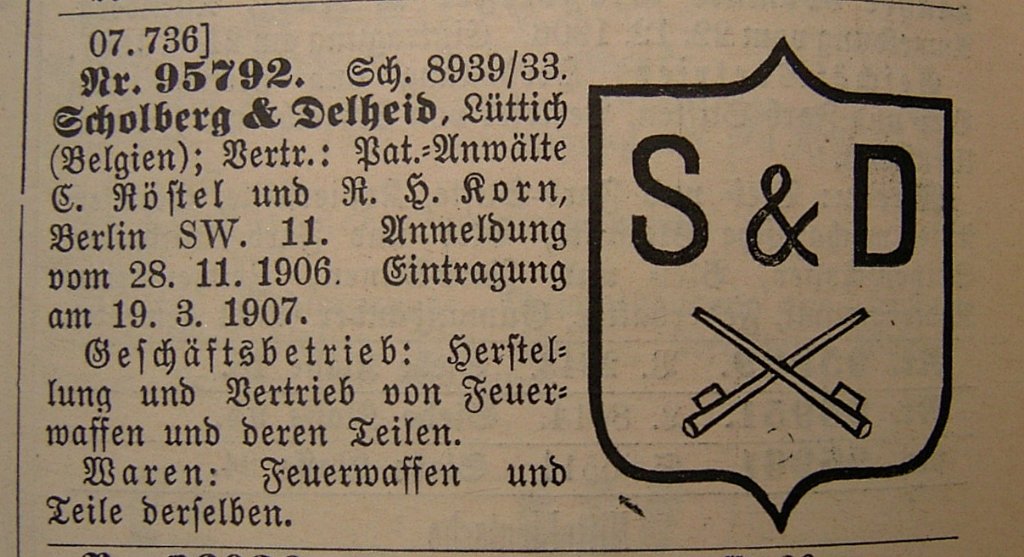 The question now (still) is: who made rlvanden's shotgun? The trademark of his is quiet different from S&D's trademark. But after taking a loooooong and close look on it, it seems to me, there are two trademarks present: S&D's trademark "S & D with crossed barrels" which was over stamped with "R B & C plus anchor and crossed rifles".
Maybe the brand of R. Bornmüller & Co., Suhl?
Unfortunately, I wasn't able to find a registered trademark by Bornmüller, nor any other ad or publication by Bornmüller.
The only info I found about Bornmüller is this:
http://www.archivingindustry.com/Milita ... erence.htm
Quote:
Bornmüller
Richard Bornmüller; Suhl in Thüringen, Germany. Once a partner in Bornmüller, Simson & Luck, this gunmaker traded independently in Suhl in the twentieth century. Most of the directories list the business as a wholesaler of guns and ammunition. The entry in the Deutsches Reichs Adressbuch for 1900 lists the owners as 'Edm. R. & Ernst H. Bornmüller'; by 1914, however, it was being operated by Ernst Hilmar Bornmüller. The 1930 directory entry still lists 'Bornmüller & Co.', and the 1941 edition lists 'Richard Bornmüller u. Co.' as a gunmaker; operations ceased in 1945.
And this:
http://www.feuerbixler.de/history14.html
Regards
Martin
P.S: I love detective work…. and good photos like the one of rlvanden making detective work possible.