Welcome to the Basement,
Cherokee Bob
!
NHrural wrote:
...As TempestV said, pistol-grip stocks make it awkward to use the Mossberg safety and slide release. Either a Mossberg Bantam/Super Bantam stock or the Hogue youth stock might be a better option.
I agree, don't have your girlfriend struggle with the safety on a pistol-gripped Mossberg. And I suggest that she will gain more shooting skill from a
recoil-reducing, 13.5" LOP Knoxx CompStock
that causes her no discomfort, than from only using a shortened stock. Click on FAQ's, and if you order it you will select "Mossberg 88 20 gauge."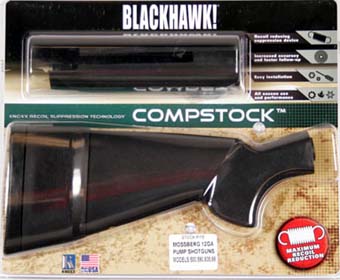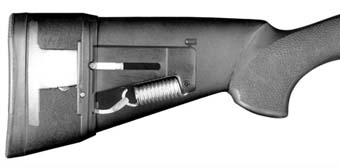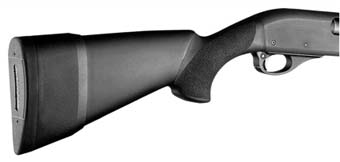 If a shortened LOP is the only concern, you could shorten the current stock yourself, and save this much money:
Choate Mark 5 Conventional 11.75" LOP Buttstock Youth Mossberg 500, 600 Synthetic Black; Midway #675243; Choate #02-01-10; $58.99
(I am not certain that this fits a 20 gauge.)
Mossberg 13" LOP Buttstock Bantam Youth checkered honey-satin wood Mossberg 500C 20 Gauge; Midway #563587; Mossberg #95020; $73.99
; or $60 from Mossberg.
Mossberg 13" LOP Buttstock Bantam Wood Mossberg 500C 20 gauge; Midway #875211; Mossberg #12936; $75.99
Mossberg 13-7/8" Buttstock honey-satin wood Mossberg 500C 20 gauge; Midway #840627; Mossberg #13612; $93.99
; or $67 from Mossberg.
The Mossberg 500 and 510 Super Bantam stock includes two recoil pads and a stock spacer. By using the short pad, the LOP can be reduced to 12"; with the spacer and longer pad, the LOP is 13". Bantam stocks have a 13" LOP. I think that there are
Bantam and Super Bantam stocks
that will fit any 500, but I could not find many part numbers or prices. The Mossberg 505 Youth 20 gauge shotgun has a 12" LOP. I cannot find a Mossberg part number or price. I do not think that Hogue makes a 12" LOP ShortShot stock for the Mossberg 500C 20 gauge. Good luck!