Buford T. Justice wrote:
LWM in TPA wrote:
Are the shells you are useing the same ones over and over?. Try brand new rds. See if they feed OK. A similiar post had the same trouble. The shooter was reuseing the same rds. over and over. The force of the bolt slamming the rds. into the chamber left a ridge or burr on the rds. and the shell stop was getting hung up on this ridge ( burr). This does not happen all the time only when the ridge lines up with the shell stop. I very rarely load my SPX this way. I load through the ejection port, hit the bolt release, and start loading the mag. You have to remember the gun is made to fire the rd. in the chamber and feed a new rd. not reusing the same rds. over and over. Try new rds. if they feed dont reuse them try same more new rds. if they feed then it isn't the gun. Hope this helps.
LWM...I measured the rounds and they were 2 1/2 inch '00' buckshot for home defense (sellier & Belliot). I tried my Trap ammo #7 1/2 shot, and it measure out at 2 1/4 inches...these had no problem feeding and extracting.
The barrel has 2 3/4 inch to 3 inch shells...I guess if a ran some 3 inch in there it really will hang up in there.
Ok, but the main question here is,
are you chambering the same rounds over and over again
? Reason I ask is because I was one of the other members here who have had this same issue. What is happening is when you chamber the same round several times, the brass lip actually gets smashed into a slightly larger diameter, Then when you are pulling the bolt back, the larger diameter lip cannot get past the shell stop. Or I have found that bottom of the brass actually gets a circular groove smashed into it, hindering the shell stop from being able to completely go through its full range of motion to release that shell.
In the pic below, the shell on the left is new and the one on the right has been chambered several times. Notice how beat up the one on the right is. Even when I load this shell by itself and try to pull the bolt back it will only release 2 out of 10 times.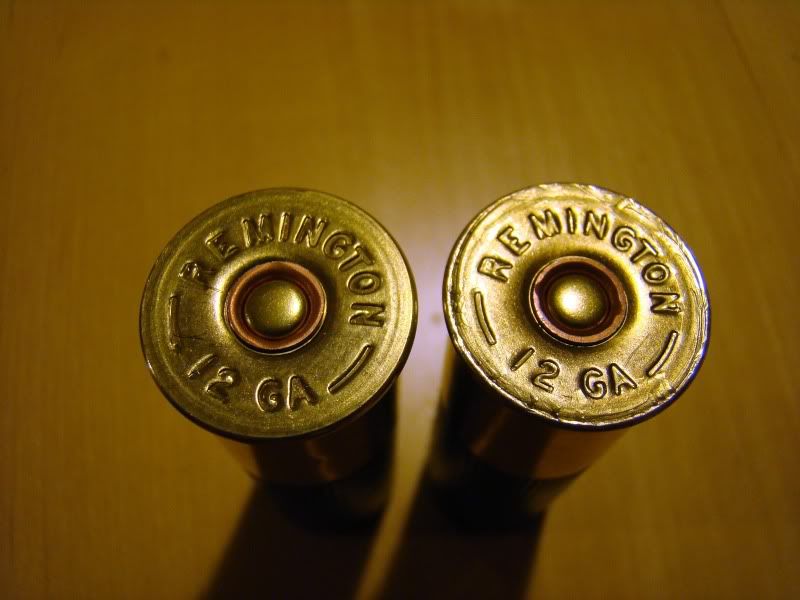 So my best advice is, pattern some buckshot, make a choice of what you want to use, load your SPX straight from the new box of ammo you buy, and do not chamber those rounds unless the "time" comes. For practice of doing load drills, pick up some AZoom or some other brand of snap/dummy caps.
http://www.cheaperthandirt.com/11370-5.html
Hope this helps.
The Guinea

_________________


Proud Father of a United States Marine.