This is a review of the Dickinson Arms 12 ga boxlock side by side, model SBE. It is made in Turkey and has somewhat convoluted origins.
So, let's start at the beginning. Smith & Wesson allegedly came up with a unique, patent pending trigger plate design for an upland sxs gun, the S&W Elite Gold, went to Turkey, "built" a factory and introduced the gun in 20 ga to the US in 2007 (clarification welcome). It appears that S&W did a poor job of marketing these guns that were MSRP $2550 when launched. With the Great Recession and poor sales, it appears that S&W "dropped" the gun in late 2008 or early 2009. A number of these S&W Elite Golds ended up in Cabelas and later at CDNN, where they were selling in the $1200 range, chiefly in single trigger POW or English DT configuration 26" or 28". With only a few 26" SNT POW now available at CDNN, prices on the 28" DT English stock guns are creeping up and are now available on GB and GA at $1600 +.
According to S&W's original releases, not only did they plan a huge number of model variations, but the Elite Gold SxS would also be offered in 12 ga. As far as I can tell (again, clarification welcome), that never came to fruition.
The S&W Elite Gold was extremely well reviewed garnering a Field & Stream Best Hunting Shotgun in its annual "Best of the Best" reviews
http://www.smith-wesson.com/wcsstore/SmWesson/upload/other/Elite%20Gold%20Best%20of%20the%20Best%20Final.pdf
. Several SGW members have purchased these guns and their reviews have been equally positive. The "heirloom warranty" was certainly a reassuring feature. With S&W having "dropped" these guns, there was a good deal of speculation about what had happened to their "abandoned factory" in Turkey and whether these guns were still being made. With extensive research, SGW members turned up iterations of the gun in a Commando Arms catalogue from Turkey (I have no current info on Commando Arms other than the on-line catalogue)
http://www.commando-arms.com/
and information that the manufacturer of these guns was a company called UTAS. Whether the Turkish company UTAS ever owned the manufacturer of the S&W Elite Gold is unclear, but they do not now and their portfolio is entirely focused on the "combat" shotgun market. It would appear from the research currently available that there was no "abandoned S&W factory" and that this A&D boxlock side by side was being made before the S&W Elite Gold and may still be made by more than one entity in Turkey.
More digging by SGW members turned up what appeared to be the same guns as the S&W Elite Gold, offered in both 20ga and 12ga, now named Dickinson Arms, and imported by IAC Imports of Billerica MA (in fact situated in CA), a division of Interstate Arms Corporation. IAC currently imports two "reproduction 1897 pump shotguns" and a rather horrific looking "home defense" pump action gun. The Elite Gold look-alike shotguns were found available at Cabelas. SGW member 2fewdasafield has actually spoken with the management at IAC Imports and may have more information.
http://www.iacshotguns.com/about.html
IAC imported these guns from AKUS Silah Sanay TIC AS
http://www.akus.com.tr/en/hakkimizda.html
And both the Commando Arms catalogue and AKUS websites refer to the model of this gun as SBE, also the first letters in the serial number on the gun. For more information from AKUS:
http://www.akus.com.tr/en/5.html
Now, about the gun I purchased from Cabelas in Scarborough ME. I received a NIB Dickinson Arms, 12 ga, Anson & Deeley boxlock ejector, with color case hardened receiver, double triggers, 28" rust blued barrels, fixed choke, and straight grip (English) stock. There was no mention of choke constriction in the gun library listing. Mine came IC/IM, which is a nice combination in my view, offering potential IC/M patterns with spreader loads, and M/F with steel. Cabelas is selling these for $1399. They will negotiate downward. Not entirely unsupported, it came with an alleged 2 year warranty from the manufacturer. I haven't had the time to open it up, but my theory is that S&W had the rights to a trigger plate action and that AKUS and others are making essentially the same looking gun but with the tried and tested old A&D boxlock action.
First, the wood. I have been very unimpressed with the pictures of the wood on S&W Elite Golds that I have seen on-line. However, I was very impressed with the much lighter and very nicely patterned wood on 2Few's Elite Gold. The wood on the Dickinson is somewhere between that on 2Few's Elite Gold and the plainer wood that I have seen on most Elite Golds. The Dickinson comes with a urethane or varnish finish that I think mutes the wood pattern. The oil finish option would substantially improve its appearance. This is the lowest grade wood available on the SBE and clearly the Turks are capable of putting together some lovely furniture in higher grades. The 24 line checkering is well done and the wood to metal fit is very good. The checkered buttplate is as per the Elite Gold. LOP measures just over 14 7/8". It is nice and slim through the wrist but feels solid.
Receiver. I am not sufficiently knowledgeable about the process of color case hardening to speak with any authority here. All of the literature claims true bone case hardening and I have no reason to doubt that the process was used here, but I am not entirely impressed with the results on this gun. Coloring is uneven and very sparse around the edges. This appears to be the same as the Elite Golds that I have seen on-line but slightly less well executed than on 2few's Elite Gold. The firing pins are not bushed. The receiver is rounded but feels less so than the Elite Gold. This speaks to my theory on the trigger plate vs box lock action.
Barrels. The rust bluing is even, deep and well done. The file cut low-raised rib is well proportioned and sits well in the sight plane, tipped by a single brass bead. The chopper lump barrels are chrome lined and suitable for steel shot. The locking bar is jeweled and the forend connects easily and snugly. The importer name IAC, Billerica MA appears upside down on the right barrel.
Weight. UKAS lists the SBE 12 ga as 3.0 kg, equivalent to 6lbs 9.6oz, and according to my scale, it actually weights 6lbs 10.4oz. This is a little heavy for a true upland bird gun and seems exponentially heavier than the Elite Gold in 20ga. However, my initial impression (not having yet fired it) is that it points extremely well, balances just in front of the hinge and, for me, that somewhat higher weight should help me even out my swing.
Overall Evaluation before firing. This is not an Ugartechea or an AyA and it would not be readily confused with any $4,000 - $5,000 guns. Nor however is it likely to be confused with any of the Huglu offerings currently available in the US. I believe that the gun, if offered by a reputable and consistent importer with certainty of warranty and service work would sell in the $1500 range and, that with higher grade wood, could sell in the $1750 range. It appears to be a good quality, well-made shotgun that's a bit heavier than optimal but stands a cut above any of the economy side by sides in the market . In my estimation this is a mid-range Turkish gun, not quite on par with the lower end of the current Ugartechea or AyA portfolio, for example, but with higher grade wood and greater attention to detail, capable of getting there.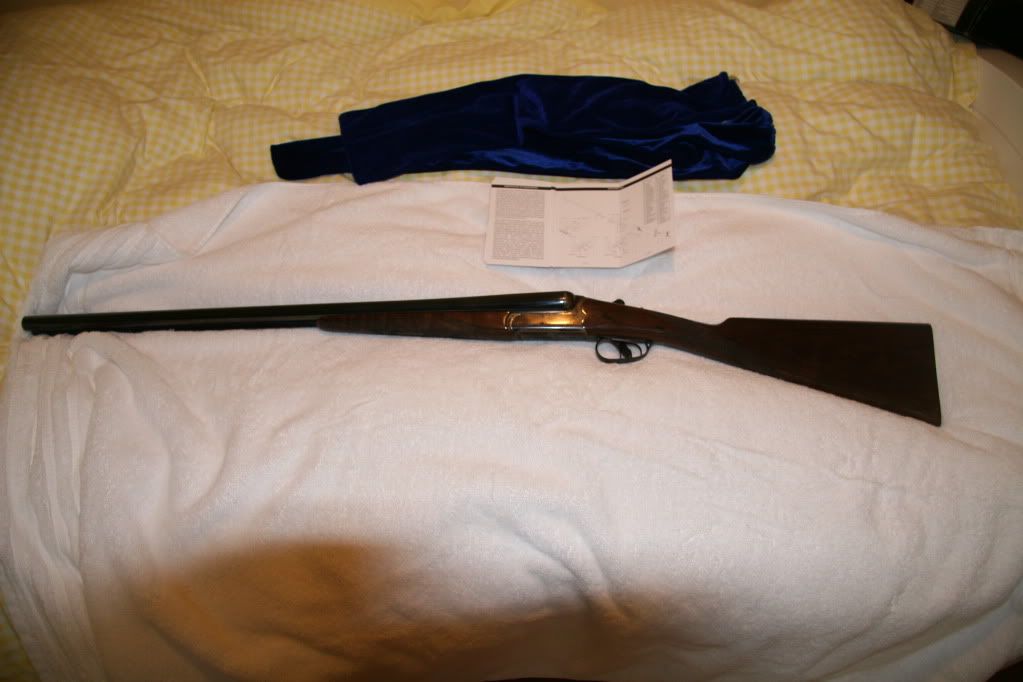 Note that it comes with the same Royal Blue faux velvet bag as the Elite Gold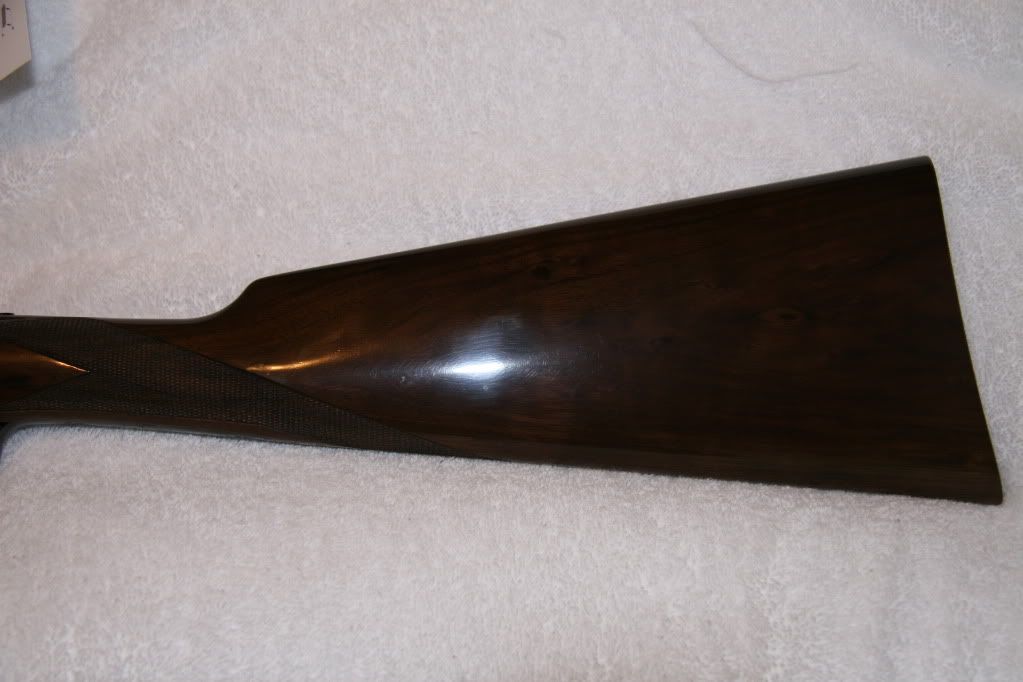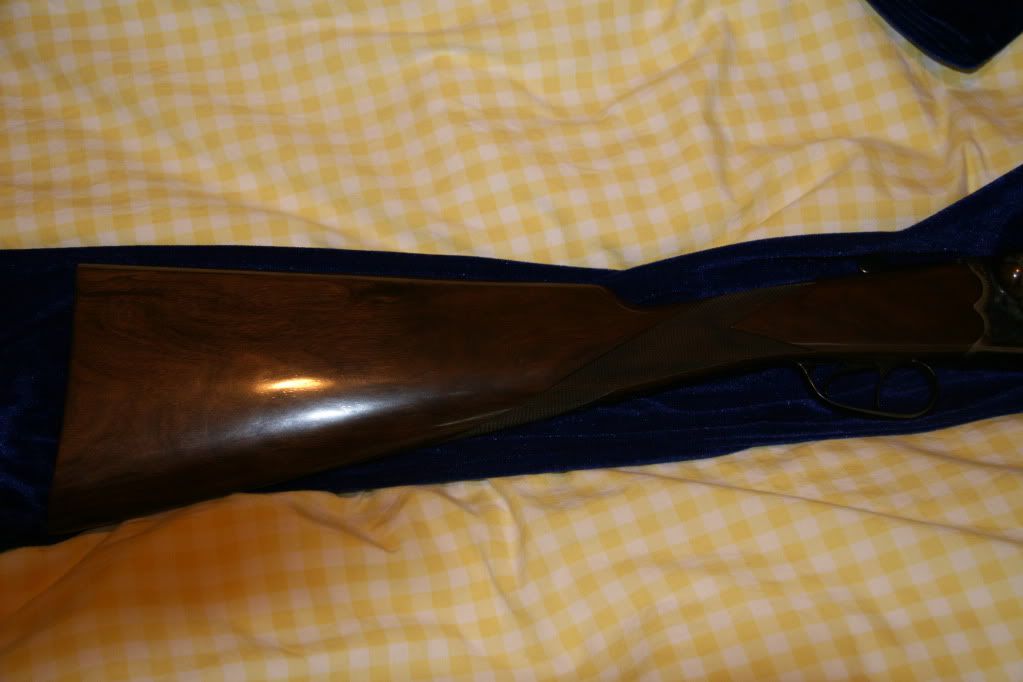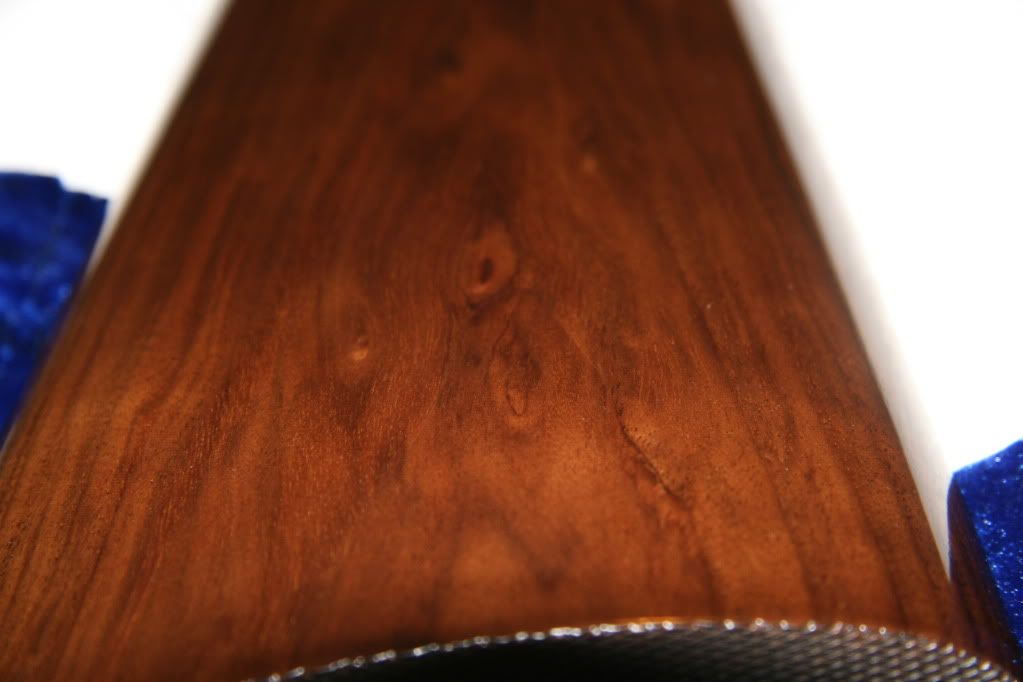 The Wood is better than my photography but not stunning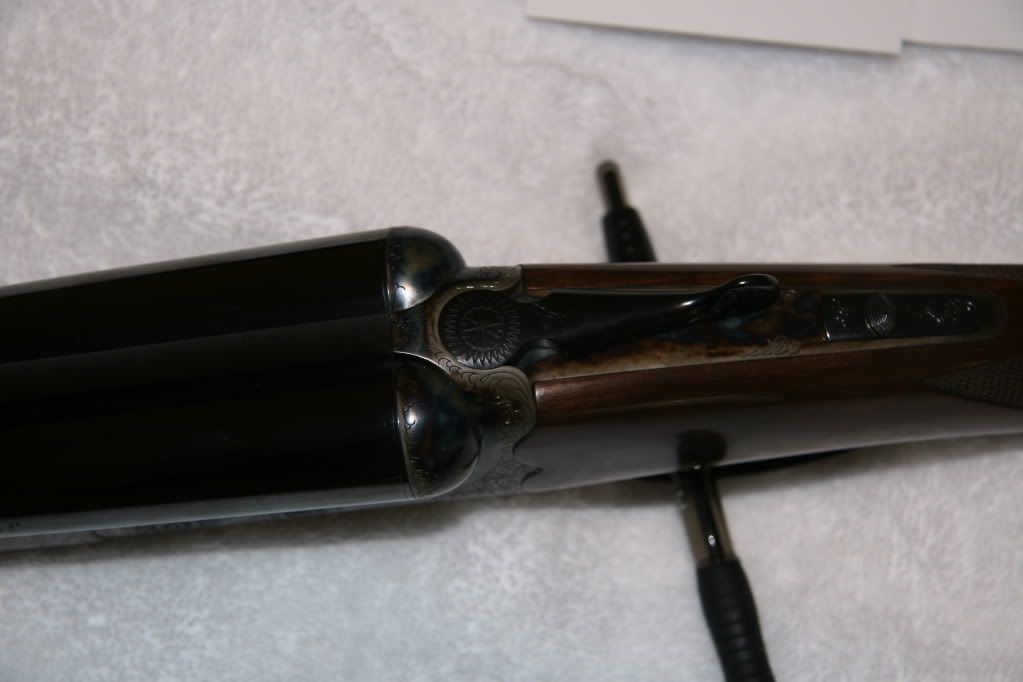 I hope this review is helpful and look forward to any information or clarifications that our learned SGW colleagues may have.