I just got one a few days ago. Cheaperthandirt had a special going on so I bought one for Black Shotgun Saturday. Once it stops raining for a bit I will head out to the range and break it in. Seems like the early ones were buggy but even those were really reliable with buckshot and slugs and it was only the low powered target loads that would hang up. I had a Benelli M1 Super 90 that would hang up on cheap target stuff. The reports now say that once it is broken in, it will shoot most of the bulk shotshell loads reliably. I guess I will find out.
The build quality for mine is mediocre. The plastic front sight was put on canted. You can adjust it but I just took it off anyway. The rear carry handle/rear sight is flimsy. The rear sight has both peep and "v" aperture but it was on the windage adjustment screw at an angle and not very well constructed. The fixed sight systems would work but are of a quality below that of a Keltec. I own a Sub-2000 so don't flame me on the Keltec comment.
The upper receiver has a standard picatinny rail now as I guess the early ones were oversized. My Aimpoint Pro fits on it nice and solid.
The primary reason for me to buy this weapon was control layout. The only difference between it and an M4/M16 is the charging handle. On the MKA 1919 it is on the bolt like the Remington style semi-automatic shotgun it is underneath its black gun styling. The safety is classic M4 and flicks on and off with the same effort as my M4 carbine. It is not loose but it is not too heavy either. It is not going to get flicked off brushing on clothing but nor will it bother you to swipe it off with your thumb. The bolt release looks a bit bigger than the M4 ping pong paddle but it works the same. The magazine release seems a bit stiffer to operate than my M4 and is not quite as high and the fence around it seems off center but adequate to protect the button.
The magazines are steel and seem solidly built, they are a little hard to load but since I have never loaded a magazine for a shotgun I do not know if this is normal or not. It may be the ammo I am using or just operator error. The handguards are thin cheap plastic. They are narrower than you would think from looking at a side view. I don't mind though as I have small hands. The lower receiver is plastic and the mold lines are uneven. This was especially annoying on the inside of the trigger guard and I used a razor blade and a nail file to smooth it down. Same thing on the front of the pistol grip. Easily remedied but still annoying.
I will give a report on how it shoots and disassembly and cleaning after I come back from the range. Disassembly is going to be a pain because you need a ten inch extension and a ratchet to separate the receivers.
For the future. 922R parts are available so you can use ten round magazines and put a folding or M4 type buttstock on it. There are also replacement handguards with rails coming out for it. I do not know if I will spend the $100 or so it will cost to get 922R legal so I can spend even more money on expensive ten round magazines or stocks and handguards. The options are there if I decide on that later. My inclination is that my wallet will not allow me make this into a 3 Gun racegun. Right now, it feels comfortable putting it to my shoulder. It feels a lot like my M4 or an M16A2 which is not only in my muscle memory but genetically encoded into my DNA after 25 years of having one or the other. This is why I wanted to try this shotgun. Currently it is only a 5 + 1 12 gauge. My Remington 870 is only a 6 +1 as are most semi auto tubular magazine shotguns. The speed of reloading of this magazine fed shotgun will make up for that lost 1 round in magazine capacity.
For those who prefer the Saiga, more power and mag capacity to you. I own an Arsenal Saiga and love it but the controls are not what I am most familiar with and the magazines are more difficult to change out. Yes, I have fired a Saiga 12. I also cannot afford to trick out a Saiga. Same reason I own a Jeep instead of a Porsche Cayenne.
I will see if it works and is something I will bet my life on. Would I trust it to bounce around the gun turret of a Humvee like a Mossberg 590A1? Hell no! Fortunately, I don't have to do that anymore.
From here to the front door with OO buckshot, I think it will get the job done. Once I verify its reliability at the range with buckshot and slugs, I will figure out a way to put a light on it and it might just take its place as my home defense/camping shotgun. Here are a few pics.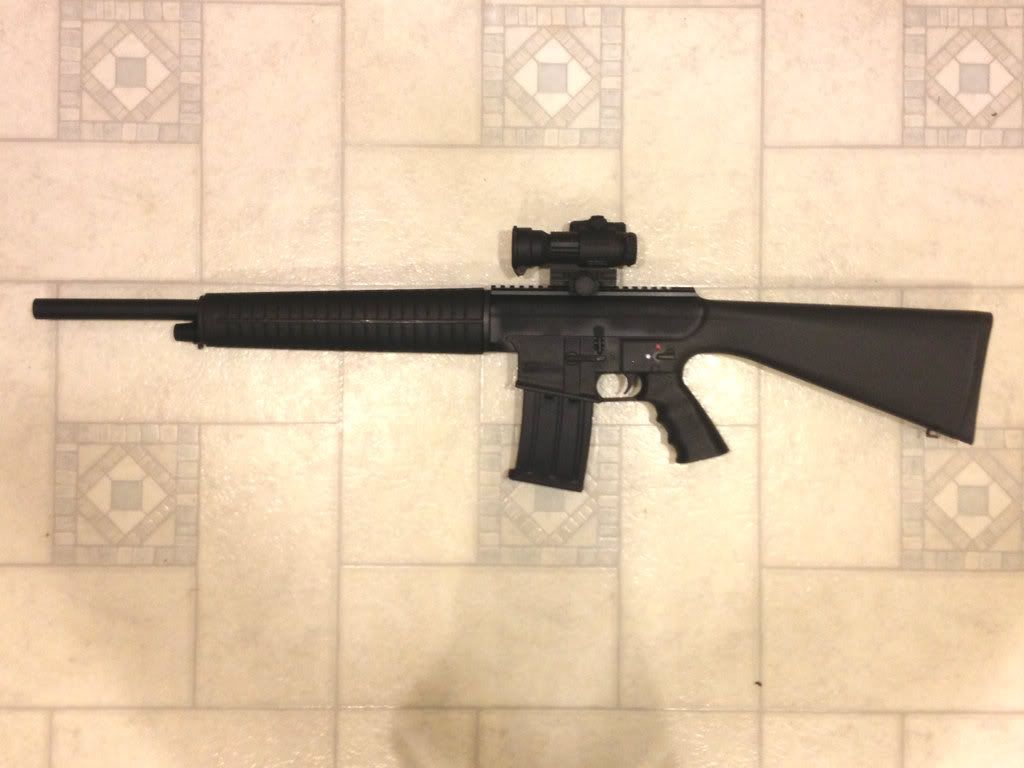 Here is a shot showing how narrow the handguards are compared to their height.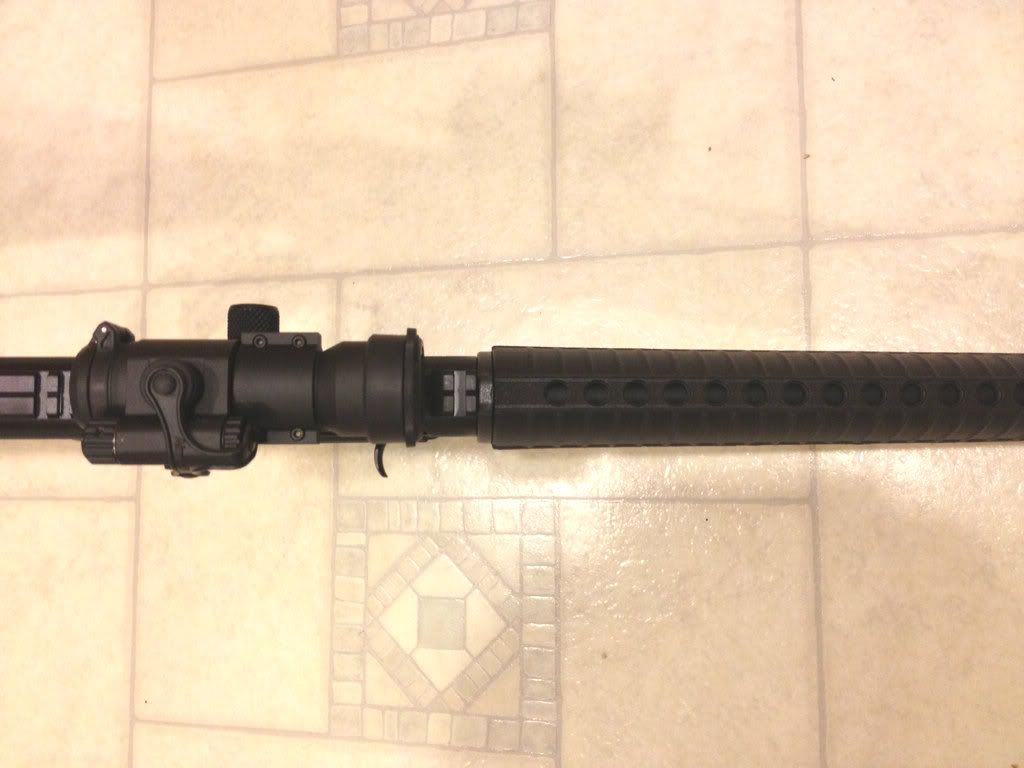 Just got back from shooting at my gun club. It is kind of what I expected. Worked 100 percent with my Sellier and Bellot 12 pellet OO buckshot defense loads and 0 percent with BiMart cheap stuff. Maybe it will get better as things wear in. I might get the gas booster ring that is supposed to improve light loads. I doubt it though as I did not buy it to bust clays. Still works with light loads but its a bolt action as it doesn't even eject the hull. I like shooting buckshot and the S&B stuff is fairly cheap. It will shoot 3 inch number 6 steel shot with 100 percent reliability. Magazines don't drop free but I have read there is an easy fix for that. The MKA 1919 comes with two magazines. One is marked 2 3/4 and the other is marked 3 inch. Limited experience with limited ammo but both magazines fed my 2 3/4 S&B loads that are actually closer to 3 inch in size. Both also fed the 3 inch loads fine as well. My Aimpoint Pro was fine and I centered the dots in my buckshot patterns at about ten yards. I will play with slugs later. All in all I think its a keeper. Its fun to shoot and runs my defense loads perfectly. Another shooter was surprised after thinking I was shooting an AR-10. Another hadn't even heard of the gun and was quite intrigued about it. I think there is definitely a market for it and if a US firm made a lower then you wouldn't need all this 922R parts replacement hassle. Here is a slow fire video of the the buckshot loads. Range frowns upon rapid fire and I didn't have a very good stance in between the benches. The recoil is not bad though, even the 3 inch steel shot loads didn't hurt at all. I tend to like big booms though.
Akdal MKA 1919 12 guage shotgun - YouTube
http://youtu.be/10n0bQngs1Q
Did a couple home defense or "TACTICAL" modifications. Yes, I said the T word.
I added a small picatinny rail under the handguard for a weapon light. I feel that a light on a defense weapon is essential. I prefer to use the magazine well instead of a vertical fore grip. I also added a buttstock shotshell carrier which will also add a little weight for balance and recoil mitigation. I like the velcro ones over the elastic stretchy ones because they don't move around and can be removed from the weapon easier than a bolt on plastic carrier. If you buy extra carriers you can just slap new ones on as you use them up in a training course for example. I might get a brighter light but the M3 Streamlight is one that I know can stand up to very rigorous treatment and keep going.