There were over 100 shooters. Last year was a better competition, with Anthony Terras (Bronze, 2008 Beijing), Nasser al-Attiyah (Bronze, London 2012) Juan Jose Aramburu (2011 ISSF skeet world champion), and Leos Hlavacek (3 silvers, 1 bronze in the ISSF world champs) in the final. This year, Terras was back in the final along with Valeriy Shomin and some new faces.
First off, the weather sucked. It was in the 40's with high winds and driving rain. Notwithstanding that, there were some great scores posted. Eric Delanuey shot behind me in my squad and was on fire. He was 100/100 after 4 rounds and shot a 23 in the final round. After 5 rounds, the top 6 were all 120 or better.
Eric Delanuey 123
Emanuel Petit 121
Shomin 120
Terras 120
Battaglio 120
Tepply 120
The rest were
Astakov 119
Gusland 118
Gubbelini 118
Poumalliou 116
Latour 116
Kaal 116
Lopez 116
Bouyer 114
Killander 114
Skinner 114
Steven 114
Koleznyk 114
It was a bummer for Gusland of Norway (the Norwegian National Shooting team manager) because he was shooting well. He was at the stand ready to shoot and went to get his gun and it was gone. He was called to shoot but without a gun, he risked a DQ. He went racing back to the tents and the other ranges and was in a panic. It turns out a guy shooting with a borrowed gun took Gusland's gun by mistake and put it in the case. He realized the error and came back with it but not before Gusland got rattled. He shot a 21 that round (which tells you that the rest were 3x24 and one 25). He missed the final by 2 birds.
Despite Eric's early heroics, he finished 5th in the final. The final for the men was
1Tepply RUS
2 Shomin RUS
3 Petit FRA
4 Battaglia ITA
5 Delanuay FRA
6 Terras FRA..
The women's competition featured Francesca Crovetto, a sweet little biscuit from Chile who has a bronze medal from the World Cup and who was 8th in London. It is a breath of fresh air to see a cute, attractive shooter in the female ranks, as female skeet shooters tend to have mullets, weigh in around a deuce or a deuce and a half, prefer flannel, and trend towards same gender orientation.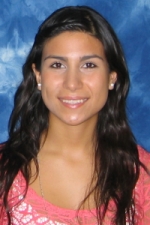 However, the women shot a scratch competition on Sunday to add two unofficial rounds to the 3 official rounds they shot on Saturday. Crovetto did not shoot but a French gal whose name escapes me at the moment shot 117. That is really strong for a skirt.
Your humble reporter was able to shoot a score in the low triple digits.
He is off to the 2nd Gran Mondial Perazzi in Lonato this July.
http://www.trapconcaverde.it/pdf/perazzi2013.pdf
He is competing only as a second thought. His primary reason for going is to have a stock made by the Esseviere brothers before they retire in the near future. Every olympian in Europe shoots with an Esseviere stock and I need to get while the getting is good.
http://www.flintenschuetze.de/cms/front ... ?idcat=111