I have to say that I'm an Auto-5 guy, but this looks like a great little gun. I'll give a little background on my adventure with the Model 50 so far.
I grew up shooting my Dad's Ithaca 37 with a Cutts on the end of it and always thought that it was the coolest thing in the world, until the first time I sat beside him and he dropped the hammer and I found out how loud they were. Regardless, I wanted a Cutts gun of my own. Being an Auto-5 guy, I thought one of those with a Cutts was pretty classic, but I couldn't find one in my price range.
In my search, I found a Winchester Model 50 barrel with a Cutts (cut to 26") with a Spreader tube for $49.99. Now that looked like a dandy rig! I read this sticky and the timing thread, watched a Youtube video and decided it'd be worth a shot (no pun intended.) In my typical fashion, I did things backwards and now I had a barrel for a gun I didn't have. I posted some want ads and while I had some hits, nothing was really jumping out at me.
Then I took a trip to a "local" gunstore and amongst all the synthetic camo 3 1/2" Beretta's and Benelli's, I saw a shorter loading port, a wood stock, a front triggerguard safety and slightly worn bluing.
I asked the saleswoman if that was a 50. She was as surprised as I was when it turned out to be. As soon as I picked it up, I thought, "Man, this is a heavy gun", but it was a good heavy. It seemed to put the weight in my hands. I looked it over, a chip in the forearm, meh, not a big deal for me as a shooter. A pad, but I shouldered it and it came up perfect. I looked at the 30" FULL barrel and thought, "I have no use for it with the Cutts barrel coming, I can always flip it" I looked at the muzzle and thought it looked funny, but didn't think about it again.
Once I got permission, I attempted to pull the barrel to check the slip chamber, but whoever had tightened the mag cap must've been a lot stronger than me. I had to get a big screwdriver from the shop employee and we got it apart. I explained to him how the action worked (he's a great guy, just not a real shotgun guy) and he thought it was a pretty neat design.
I looked at the price tag and thought it was top end of what I wanted to spend, so I asked the shop owner if he had any wiggle room and he said he'd throw in the taxes. SOLD.
I took it over to a friend's house as he had owned a couple 50's in the past and he said, "Oh, this is a decent one". He was looking it over and said, "Does that muzzle look big to you?" "I thought so, but I don't have my choke gauge with me". Well, we measured it and someone had opened it up to a IMP MOD. That's a whole lot more useable for me.
Anyways, after that long winded post, here's some pictures.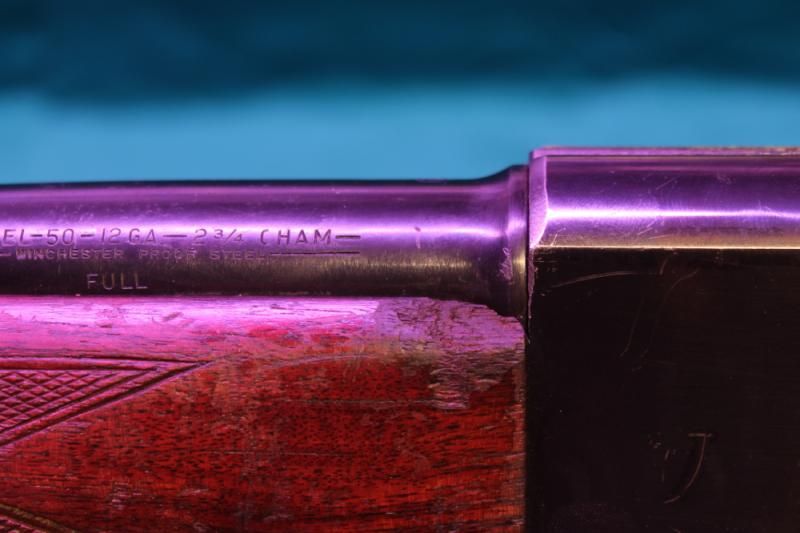 The "chip" out of the forearm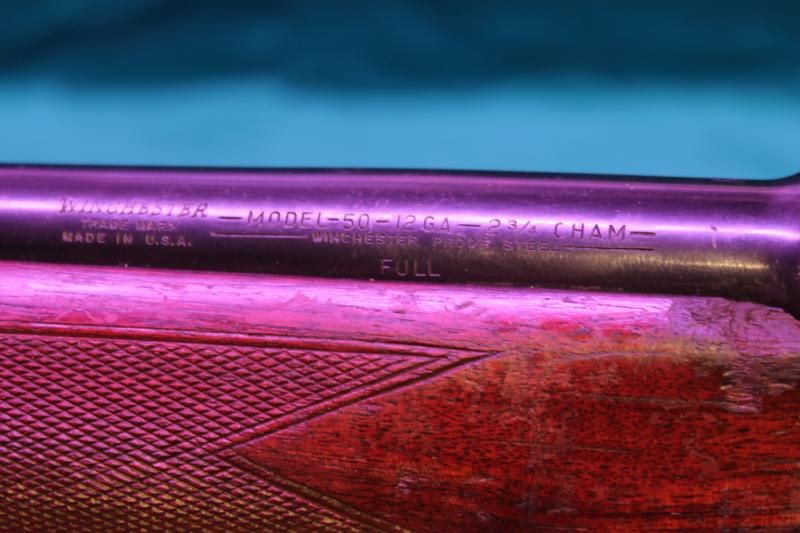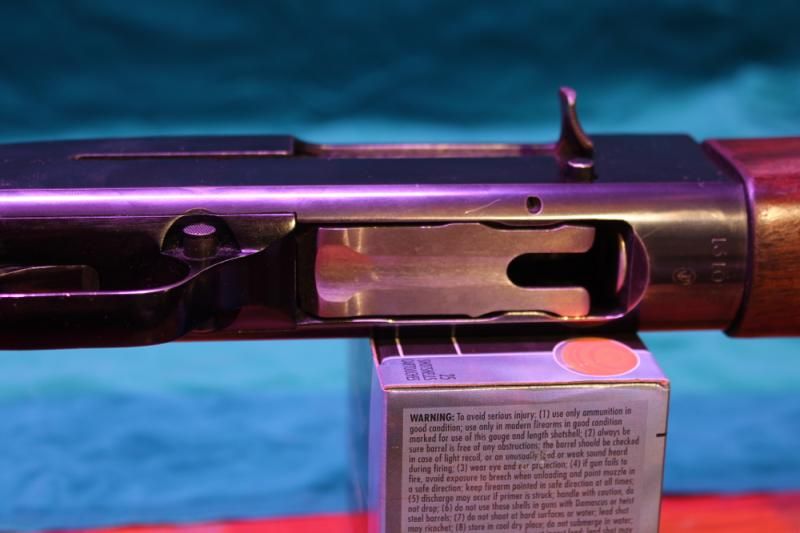 Doesn't look like it's been shot a whole lot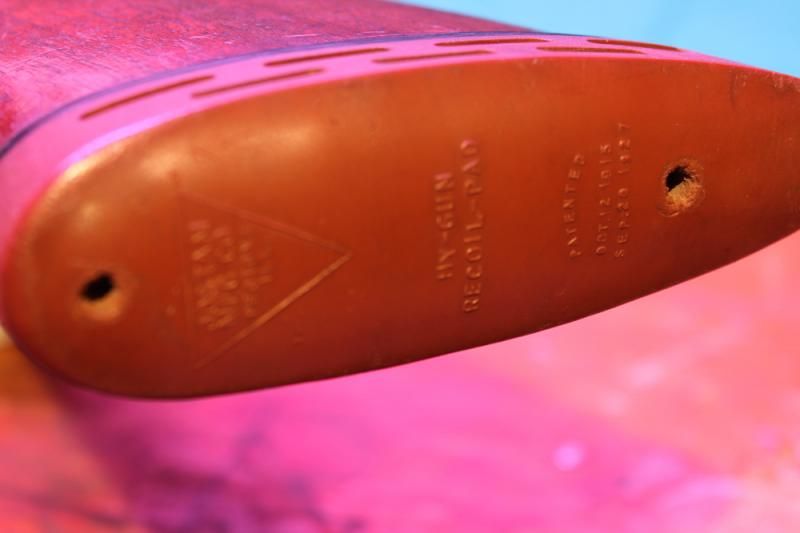 Pad seems to be period correct, the LOP is right and it's actually still soft!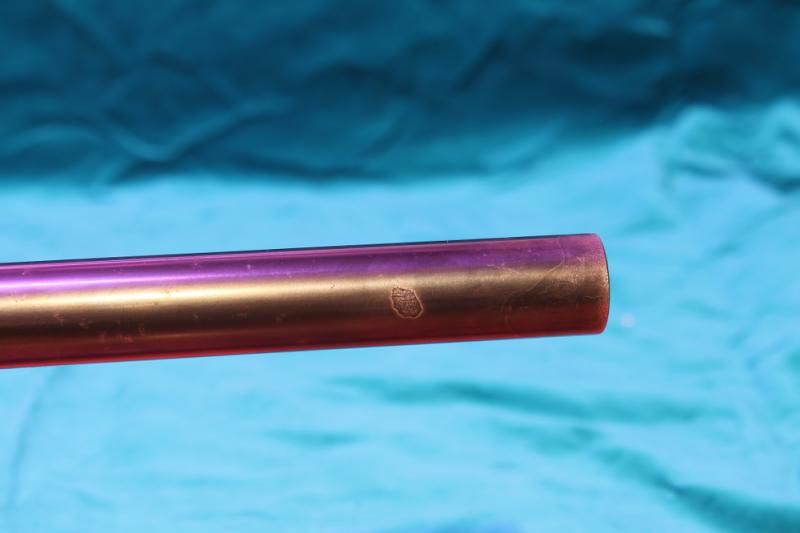 The Cutts barrel should arrive Monday. Originally I was planning on getting some more Cutts tubes, but since they seem to be going to almost $50/tube sometimes, I might just switch barrels if I need to change the choke unless I stumble upon some cheap ones (though living in Canada, nothing gun parts ever seems cheap....)
I have to take it down for a good cleaning and give the wood some loving, re-time the action and it should be good to shoot. I figure for about $350, I've got a two barreled Pre-'64 Winchester shotgun. I've still got to shoot it, but I think I'll be happy with it.
Cory