Louis Awerbuck is correct. The simplest way to reduce felt recoil is to use the traditional shotgun shooting stance. A standard stock is purposely designed to biomechanically transfer recoil into the ground through your right foot. Call it a boxer's stance, except your back leg remains straight. Call it a bladed stance. Call it a Louis Awerbuck stance.
wfb18 wrote:
... Fronty Owner is describing the traditional / Louis Awerbuck shooting stance, where your whole body acts like a spring to transfer recoil. If you shoot right-handed, your left front knee will be slightly bent above your left foot, which is a short step ahead of your right foot, and your right leg is kept straight thoughout the shot. When the shotgun comes back, your left leg straightens as you come back with the recoil, which flows down the natural diagonal through your straight right leg. And just as fast, like a spring, you settle back down with your left knee slightly flexed... You are ready to shoot again. You will not have any problems with recoil even if you shoot slugs with the traditional stance.
wfb18 wrote: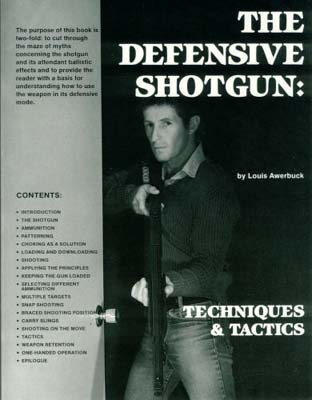 Louis Awerbuck: "First view that your opponent should have of you."
If one is searching and he carries the shotgun in the low-ready position, that extra 1.5" will not matter. What does matter is never allowing an attacker to grab or deflect the muzzle upwards. I did not scan the picture of Mr. Louis Awerbuck from p. 63 of
The Defensive Shotgun: Techniques and Tactics
, but he is in the identical low-ready position as he appears on the cover. That is his quote above, that labels that picture. There are some other pictures of him in low-ready with the muzzle perhaps 5" higher, but he teaches that one cannot shoot an attacker off of his barrel if he has lost the torque advantage and the barrel has been forced upwards.
Five men invaded a home two counties south-east of here about two months ago, and the wounded homeowner shot two or three of them. They are charged with attempted murder, IIRC. Then last week, five men invaded a home two counties south-west of here. I did not hear how that turned out. I point out that if multiple people invade a man's home, he may not have the luxury of barricading himself and his loved ones in relative security until LE comes to his rescue. Some haters might torch his home while he waits. He may not be on a seek and destroy mission, but if multiple attackers invade his home, he needs to deal with them forcibly.
If my images are not visible with your operating system, right click the word image, then open it in a new tab. Good luck, sir.