I was playing with some reloads this morning and also a new choke tube. I loved how the factory full throws buckshot, but I ride the gun in the truck barrel down, so I wanted an extended tube to protect the end of the barrel some. This extended tube is marked extra full, but it measures the same as the factory full (.685). This pattern is a factory Remington 3.5" 00 shot at 40 yards. The main pattern is 16 pellets into just under 12". The factory full wouldn't lose the 2 pellets, but would be around 14". Sorry it's upside down, photobucket doesn't seem to be cooperating.
The next target was shot at 60 yards with the same shell. One pellet missed the paper, one pellet was out of the main pattern right at the top. The remaining 16 pellets were in a pattern just shy of 20". I'm putting this on here because someone said in a previous thread that nobody puts up pics of 60 yard patterns.
I am not looking for improvement on this factory Remington load. I would however like to duplicate it as $2.50 every time i pull the trigger is kinda steep.
This is a 40 yard pattern of a handload that's showing promise. It consists of 14 .35 cal pellets (almost a 000). The .35 cal stacks better for me in a shot cup than a true .36 cal 000. I roll crimp my buckshot loads, and this one is too long to cycle through the action. I'm may have to leave 2 pellets out, which should speed it up. I only had enough to load a few shells, and need to get more before I play with it any more.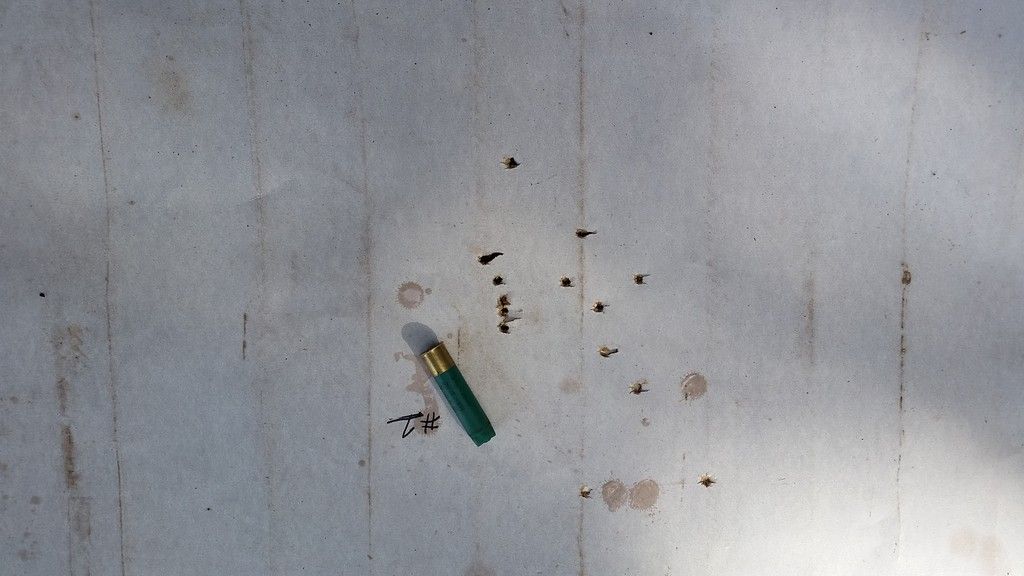 This pattern meassures 6" wide by not quite 12" high. In all fairness, the other pattern with the same load, was a 20" pattern. I don't know why, I probably need to work on my loading technique.