Porting absolutely does reduce muzzle flip, it's VERY simple physics. Anyone who argues the opposite, from a scientific basis, is completely ignoring Newtons 3rd law, and to some extent the 2nd as well. The only debatable aspect is the perception of how much (the actual "how much" could likely be calculated if someone was ambitious enough). This is where gun design, stock fit, gun mount, ect will all come into play as contributing or mitigating factors.
My tubed skeet gun has ported 12ga barrels, and it weighted and balanced as close as possible to the gun when it has the 20ga tubes in, which are not ported. On paper the 12ga loads have more calculated recoil, however there is DEFINITELY a difference in muzzle jump which makes shooting the 12ga, especially for doubles, significantly easier. Same gun, same stock fit, very nearly the same weight and balance (if anything, 12ga is a tiny bit lighter), but higher recoiling larger gauge shells have much lower muzzle jump.
You could try telling him porting doesn't work (he had the most extreme porting I've seen so far). That's Sheik Ahmed al Maktoum, 2004 Olympic Gold Medalist in Double Trap (and before someone tries to go the "top shooters do it because they get paid" BS, he is (or at least was when he won, considering the oil price crash) likely worth more $ than everyone who has ever navigated to this website combined):
Or him, that's Peter Robert Russell Wilson, 2012 Olympic Gold Medalist in double trap, Ahmed's protege: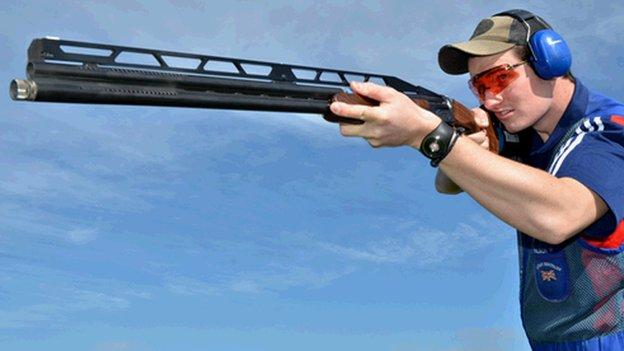 Perhaps the takeaway is that if we are going to port a gun, maybe we aren't porting it ENOUGH. I have Proport Pigeon Porting, and doubt I would go with less if I had to do it over again.