Discussion Starter
·
#1
·
Fiocchi new orange unprimed 2.75" hulls.
Lyman hard cast (w.w.) 525 slugs.
Trap Commander wad. (great fit!)
Federal 209A primer.
45 grains Bluedot.
Distance: 50 yards.
Firearm: Ultra Slug Hunter.
Scope sight: Bushnell 3 X 9 Dawn to Dusk.
Bench rest.
30 degrees no wind.
For a first blush I'm impressed with this 5 shot group from the listed combination of components.
The group of five measured one and one quarter inch center to center.
Also pictured is a Lyman slug from wet sand at 50 yards and remants of the T.C. wad showing no blown skirt, no gas blow by.
The wad petals still sheared off and the few recovered petals showed good rifling impression.
Estimated muzzle velocity is about 1500 f.p.s. at an estimated 9500 kpsi.
This load is NOT found in any published loading data and is not a recommended load.
It is, however, plenty accurate at 50 yards with enough power to flatten any game animal on this side of the hemisphere.
It will be interesting to see what kind of performance I can get with this load when pushed to 50 grains Bludedot and the range increases to 75 and 125 yards.
Wonder if the slug will destabilize when it goes subsonic?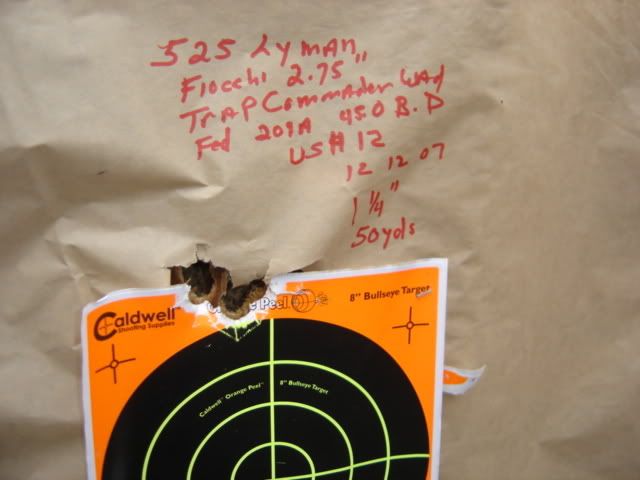 Thanks to all that have been such an encouragment and willingly shared information on loading the Lyman slug!